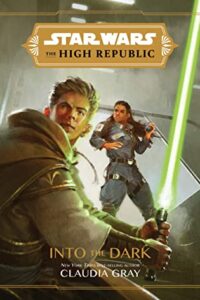 ***Disclaimer: I received a free early access copy of Star Wars The High Republic: Into the Dark by Claudia Gray from NetGalley through Disney Lucasfilm Press for review purposes. Thank you so much for opportunity.
I've been in such a Star Wars mood lately! All thanks to my husband, who is making his way chronologically through every Star Wars book. We also watched Clone Wars and Rebels rather recently and the stories in those really got my hooked as well.
I haven't had the pleasure of reading Claudia Gray's other Star Wars books, however, this one has definitely sealed my fate.