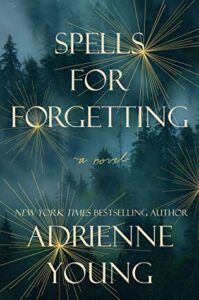 ***Disclaimer: I received a free early access copy of Spells For Forgetting by Adrienne Young from NetGalley through Random House Ballantine/Delacorte Press for review purposes. Thank you so much for opportunity.
From the moment I read Sky in the Deep in one sitting, Adrienne Young became one of my favorite authors and therefore one of my go-to auto-buy ones. When I heard she was releasing her adult debut, you bet I went to get my hands on a copy. Thank you so much again to the publisher for granting my NetGalley wish!
A deeply atmospheric story about ancestral magic, an unsolved murder, and a second chance at true love.

Emery Blackwood's life changed forever the night her best friend was found dead and the love of her life, August Salt, was accused of murdering her. Years later, she is doing what her teenage self swore she never would: living a quiet existence on the misty, remote shores of Saoirse Island and running the family's business, Blackwood's Tea Shoppe Herbal Tonics & Tea Leaf Readings.

But when the island, rooted in folklore and magic, begins to show signs of strange happenings, Emery knows that something is coming. The morning she wakes to find that every single tree on Saoirse has turned color in a single night, August returns for the first time in fourteen years and unearths the past that the town has tried desperately to forget.

August knows he is not welcome on Saiorse, not after the night everything changed. As a fire raged on at the Salt family orchard, Lily Morgan was found dead in the dark woods, shaking the bedrock of their tight-knit community and branding August a murderer. When he returns to bury his mother's ashes, he must confront the people who turned their backs on him and face the one wound from his past that has never healed—Emery.

The town has more than one reason to want August gone, and the emergence of deep betrayals and hidden promises spanning generations threaten to reveal the truth behind Lily's mysterious death once and for all.
I really loved Adrienne's venture into the adult book world! I thought this was a fantasy story, even if I was able to guess some of the things that happened, it was still woven in her way of storytelling that I love.
This book very much relies on magic on the "low magic" genre of things. I don't think there needed to be much more explanation on it—it was very reminiscent to me of Sarah Addison Allen's books. While magic was a part of the story, it was not the focus of the book as the relationships were and how the truth needed to come out. The island named Saiorse really gave it a magical vibe.
I pretty much knew that August was not the murder because it was pretty obvious. Not that because there was no way he could have, but the way the story played out it was neat seeing who really ended up doing it. I did enjoy seeing him have allies still, especially in Emery and some who might not seem like they cared or knew about what happened.
Honestly, I can't wait to see what else Adrienne has in store for adult novels!
I gave this one 5 stars.