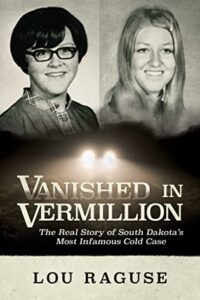 **Disclaimer: I recieved a free advanced reader's copy of Vanished in Vermillion: The Real Story of South Dakota's Most Infamous Cold Case by Lou Raguse through NetGalley in exchange for an honest review.  Thank you to NetGalley and the publishers for this opportunity.
The Real Story of South Dakota's Most Infamous Cold Case by Lou Raguse is a true crime book.  It related the story of two teenage girls who disappeared without a trace and the investigation that followed into the crime. It was published on February 27th, 2023. I rated it 4 stars on Goodreads.
Here's the summary from Goodreads:
The result of hundreds of interviews, Vanished in Vermillion is a cold case story that flips the script on a typical investigation narrative, revealing the biggest law enforcement embarrassment in South Dakota history.
In May 1971, Pam Jackson and Sherri Miller were two seventeen-year-olds driving to an end-of-the-school-year party in a rundown Studebaker Lark when they seemingly disappeared off the face of the earth. Police back then didn't do enough to try and find them. Investigators thirty years later did too much. Two families endure decades of pain as they await answers of what happened to their girls. When a third family is pulled into the mystery, they quickly learn their nightmare is just beginning.
Vanished in Vermillion was a really interesting investigation of what happened to two young girls who went missing. It was well developed and laid out. The author included a lot of information about the different theories that were explored throughout the years, and I found it really interesting to see how the investigation was handled quite poorly, though it must have been awful for the girls' families.
The audiobook was narrated by the author, and I really enjoyed his narration. He had a good narrating voice, and made the story really engaging to listen to. I also really enjoy the personal touch of an author reading their own work when the book is nonfiction.
If you like true crime and stories about police investigations, you will probably enjoy this story. It's well detailed and quite engaging.