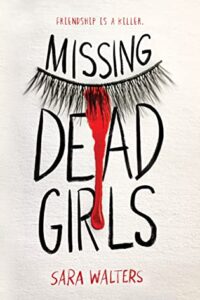 **Disclaimer: I received a free advanced reader's copy of Missing Dead Girls by Sara Walters through NetGalley in exchange for an honest review.  Thank you to NetGalley and the publishers for this opportunity.
Missing Dead Girls by Sara Walters is a young adult coming of age thriller novel about a girl named Tillie who is forced to move after dubious events at her old school.  In her new town, she makes friends and more with a girl named Madison and things spiral from there.  The novel was published on February 28th, 2023.  I rated it four stars on Goodreads.
Here's the summary from Goodreads:
What is friendship without a few secrets?
It wasn't Tillie's choice to leave Philadelphia. But after everything that happened junior year, her mom insisted the quiet suburb of Willow Creek was the perfect place to get a fresh start, to put the trauma and rumors behind them.
Madison Frank is the perfect distraction. Beautiful, fun, and from the wealthy side of town, Madison is the kind of girl who has a pull stronger than gravity. She commands attention, even inspires obsession. And by the end of summer, Tillie's forgotten everything—everyone—she left in Philadelphia. Almost.
Then Madison goes missing. A photo of her bloody body is texted to the whole student body…from an account with Tillie's name on it. Tillie's caught in a tangled web of secrets that will destroy her if they surface…and will destroy everyone she loves if they don't.
This was a really interesting read.  It was definitely the summary for this book that drew me in.  I've been on a bit of a mystery kick lately, so this really hit the bill.  I ended up really enjoying it, but it definitely wasn't what I expected going into it.
The book opens with a prologue that sets up the events described in the book's blurb, but those events don't come into play in the novel until much later in the book.  Way later than I expected.  It made for an interesting sense of pacing.  The author spends a lot of time developing the relationship between Madison and Tillie, which I felt was valid but felt strange based on what the book was sold as.
I found the dynamic between Tillie and Madison fascinating in a sort you can't look away from the trainwreck kind of way.  They're well suited for each other, but they definitely have a bit of a toxic dynamic and I can't see things playing out well for them long term after the conclusion of the story.  It would be interesting to see a sequel and what might happen to them, especially based on certain things that were revealed at the end of the book.
The book was well written, and I really enjoyed the way that the author revealed details about the characters.  It kept me in suspense until just the right moment.
Overall, the book was a fun, fast paced read, and I highly recommend that you check it out.