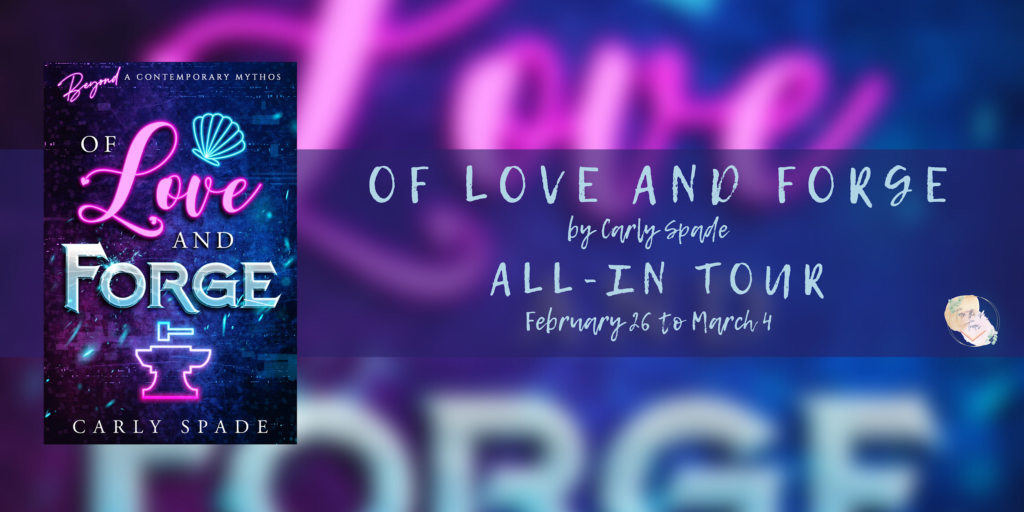 Hello everyone! I'm so excited to be on board for this tour for Of Love & Forge by Carly Spade hosted by Turn the Page Tours! This is a Beyond A Contemporary Mythos book and is NA/Adult fantasy, steampunk, and romance. It will be released February 28, 2023! 
Thank you so much for sending a copy by way for the tour.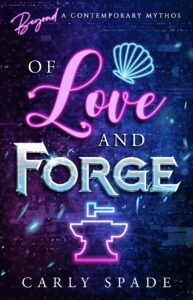 TITLE: Of Love & Forge
AUTHOR: Carly Spade
PUBLISHER: Self-pub
RELEASE DATE: February 28, 2023
GENRES: NA/Adult fantasy, steampunk, romance
BUY LINKS: Author's website
SYNOPSIS:

*The god of the forge…*

Life was good in the Neosphere District. I'd made a name for myself as a renowned supernatural bounty hunter, holding the record for most harpies slayed. But the best part about living in the future? Avoiding the other Olympian gods. Banishing a guy from Olympus because he was "imperfect" tends to make one hold a grudge. Go figure. And no other god possessed the means to time travel. But I did. Thanks to the portal hopping device I forged.

Yup. Life. Was. Grand.

Until a bounty popped up on a certain love goddess. Aphrodite and I had been friends since we were wee gods. I'd be lying to myself if I never thought our "innocent" flirting banter were real on occasion—kidding myself if I said I never wanted things to go beyond platonic. Hence, why I recently kept my distance. For my own sanity. So, of course, I made the grave mistake of taking the godsdamned bounty.

*The goddess of love…*

Since reconciling with my son Eros, after centuries of bad mojo, I'd decided it was time to clean up my act. Ride the straight and narrow. My companion service, Sans Solo, became just the ticket I needed. And it allowed me to use my powers in disguise in modern California under the name Vena Milo.

With the aid of my best friends, and fellow goddesses, the Graces, we ran a legitimate business. All was right in the world.

Until the volcano god showed up. Hephaistos. Heph—a lifelong friend who never failed to confuse me mind, body, and soul. Especially when he showed up with a magical pair of handcuffs. His audacity pissed me off, but the mere sight of him, the smell of him, made my stomach flutter. That…I couldn't deny. And when Heph's plan goes to Tartarus things got even dicier and we became…the hunted.
This book was so fun! I was previously on a tour for her book Zeus which I ate up, and this one was no different! I love the steampunk elements of the story and of course the romance between Hephaistos and Aphrodite! It was really cool to see a book featured about them. It was a fast read and hard to put down. I gave it 4 stars.
AUTHOR INFORMATION
Author's website: carlyspade.com
Author's instagram: instagram.com/authorcarlyspade
Author's twitter: N/A
GIVEAWAY
Want to win a copy of Of Love & Forge? See this link HERE!