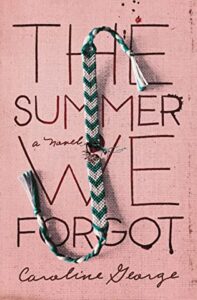 **Disclaimer: I received a free advanced readers copy of The Summer We Forgot by Caroline George through NetGalley in exchange for an honest review.  Thank you to NetGalley and the publishers for this opportunity.
The Summer We Forgot by Caroline George is a young adult mystery thriller.  It features a group of teens who worked at a summer camp a couple of years before the events of the book, but mysteriously they can remember no details about the summer.  They reunite after the discovery of their science teacher's body to try and figure out what happened that summer.  The book was published on March 8th, 2022.  I rated it 4 stars on Goodreads.
Here's the summary from Goodreads:
Caroline George once again transports readers with lush, evocative prose, leading them to ask the question: what happens when we can't even trust ourselves?
Some memories are better left forgotten.
Darby and Morgan haven't spoken for two years, and their friend group has splintered. But when the body of their former science teacher is found in the marsh where they attended camp that summer, they realize they have more questions than answers . . . and even fewer memories.
No one remembers—or no one is talking.
The group of reunited friends begins to suspect that a murderer is stalking the coastal highway 30A, and they must try to recover their memories as quickly as possible . . . before the history they can't remember repeats itself.
Everyone has a secret.
As tensions rise and time runs out, Darby and Morgan begin to wonder if they can believe one another . . . or if they can even trust themselves.
I found the premise of this book very intriguing.  The concept of a whole group of teens forgetting the same summer was really interesting to me.  However, I will admit that it took me a while to get into it, and ultimately I had to listen to it as an audiobook post the release of the book rather than reading the eBook.  However, the audiobook was very good.  It's written in dual perspective and each of the perspectives gets a different narrator which really helped to make the story come alive.
The plot of this novel had a lot of layers.  As soon as I thought I had a handle on the mystery, there was another layer to the story.  It was really intriguing and I felt like it was really well plotted.  I wanted to know what was going to happen next, and I kept guessing and being proven wrong in my guesses.  It's very much a story of not knowing who to trust, and I really enjoyed that.
The characters were also really interesting.  I really enjoyed reading from Morgan and Darby's perspectives.  I also liked watching them reunite and reconnect and become a couple.  The romance was well developed despite all the bad things that were happening around them.
The novel is also really well-paced.  The author built a good amount of tension and didn't rush through while still structuring it in a way that kept you wanting to turn pages.
If you are at all intrigued by the premise, I would highly recommend that you check this one out.  It's a well crafted mystery, and I had so much fun reading it.