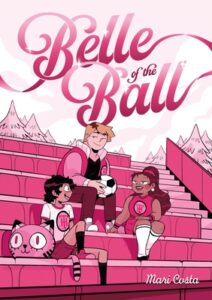 **Disclaimer: I received a free advanced reader's copy of Belle of the Ball by Mari Costa through NetGalley in exchange for an honest review.  Thank you to NetGalley and the publishers for this opportunity.
Belle of the Ball by Mari Costa is a young adult romance graphic novel.  It features the high school mascot who asks out the head cheerleader because she has a crush on her, but the cheerleader is already in a relationship with a top athlete at the school, and together they are the it couple.  Things escalate from there.  It is set to be published on March 21, 2023.  I rated it 4 stars on Goodreads.
Here's the summary from Goodreads:
A young adult graphic novel about high school wallflower Belle Hawkins, who ends up in a love triangle after tutoring the girlfriend of her crush.
High-school senior and notorious wallflower Hawkins finally works up the courage to remove her mascot mask and ask out her longtime crush: Regina Moreno, head cheerleader, academic overachiever, and all-around popular girl. There's only one teensy little problem: Regina is already dating Chloe Kitagawa, athletic all-star…and middling English student. Regina sees a perfectly self-serving opportunity here, and asks the smitten Hawkins to tutor Chloe free of charge, knowing Hawkins will do anything to get closer to her.
And while Regina's plan works at first, she doesn't realize that Hawkins and Chloe knew each other as kids, when Hawkins went by Belle and wore princess dresses to school every single day. Before long, romance does start to blossom…but not between who you might expect. With Belle of the Ball, cartoonist Mariana Costa has reinvigorated satisfying, reliable tropes into your new favorite teen romantic comedy.
I had so much fun with this graphic novel.  It was a completely adorable sapphic romance.   I liked how it was a love triangle, but it twisted things in an unexpected way.  I don't want to spoil it, but it was very surprising to me, and I was absolutely delighted about how it ended up.
The art style was really cute, and I enjoyed the character design.  They each had a really good design that made them feel unique.  Their emotions came across easily, and it was also easy to tell which character was which.  The colour palatte was pretty minimal and remained in the realm of pinks and reds.  I would have like a bit more in the range of colours, but it still looked really good.
The story was well written, and I enjoyed the vibes of the characters.  They were very interesting, and I liked the dynamics between them.  They were well written.  There was also some really good character development over the course of the story.  You learned a lot about who each of our three main characters were.  They all felt dynamic, and I loved each of them for their strengths and flaws.
I highly recommend that you check out this graphic novel when it publishes in March of 2023.