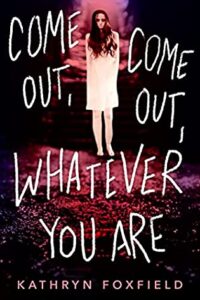 **Disclaimer: I recieved a free advanced readers copy of Come Out, Come Out Whatever You Are by Kathryn Foxfield through NetGalley in exchange for an honest review.  Thank you to NetGalley and the publishers for this opportunity.
Come Out, Come Out Whatever You Are by Kathryn Foxfield is a young horror thriller novel.  It is about a girl who goes onto a reality television where the point is for the contests to try to be the last one standing in a haunted spot.  The novel was published on December 6th, 2022.  I rated it 3 stars on GoodReads.
Here's the summary from Goodreads:
Welcome to the reality game show that'll scare you to death! Have you got what it takes to last the night?
On the reality show It's Behind You!, five contestants competing for prize money must survive the night in the dark and dangerous Umber Gorge caves, rumored to be haunted by the Puckered Maiden, a ghost who eats the hearts of her victims. But is it the malevolent spirit they should fear, or each other?
As the production crew ramps up the frights, tensions rise and the secrets of the cast member start coming to light. Each of these teenagers has hidden motives for taking part in the show. But could one of them be murder?
I like the premise of this book, but I don't think that it's execution was my favourite.  I still ended up having fun and I would definitely recommend it to people, but I don't think that I would pick it up again.
I think my favourite part of the story was our main character and how she projected such an unlikable front because she was trying to hide what she really felt.  I don't always read a lot of books from the perspective of an unlikable character and so it was a nice change to read her perspective.
I also liked how the book included the pre-show interviews with the various cast members before they went into the caves.  I liked how that revealed details about the characters that we didn't already know, and also that it helped add to the tension and suspense.
There were some good layers, but I didn't love the way that everything played out, and I felt like the whole reality television aspect could have played a slightly bigger role.
That being said, it was still fun and spooky and I liked the question of whether the puckered maiden was a real ghost or if she was a story and the way things went back and forth on that.  If you are at all intrigued by the premise, you should definitely check it out.