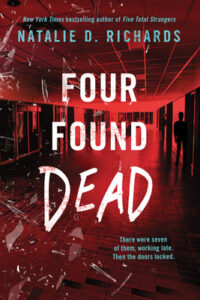 **Disclaimer: I recieved a free advanced reader's copy of Four Found Dead by Natalie D. Richards through NetGalley in exchange for an honest review.  Thank you to NetGalley and the publishers for this opportunity.
Four Found Dead by Natalie D. Richards is a young adult thriller novel.  It is about a girl named Jo who is working her last shift at her job at a local movie theatre, which is closing down.  Her and her friends have plans to go out to IHOP to celebrate, but instead they have to avoid a killer.  The novel is set to be published on May 2nd, 2023.  I rated it 4 stars on Goodreads.
Here is the summary from Goodreads:
At the movie theater where Jo works, the last show has ended. But the nightmare is just beginning.
Tonight, Tempest Theaters is closing forever, the last remaining business in a defunct shopping mall. The moviegoers have left, and Jo and her six coworkers have the final shift, cleaning up popcorn and mopping floors for the last time.
But after an unexpected altercation puts everyone on edge, the power goes out. Their manager disappears, along with the keys to the lobby doors and the theater safe, where the crew's phones are locked each shift. Then, the crew's tension turns to terror when Jo discovers the dead body of one of her co-workers.
Now their only chance to escape the murderer in their midst is through the dark, shuttered mall. With its boarded-up exits and disabled fire alarms, the complex is filled with hiding places for both pursuer and pursued. In order to survive this night, Jo and her friends must trust one another, navigate the sprawling ruins of the mall, and outwit a killer before he kills again.
I really enjoyed this thriller.  I think I even liked it better than the last Natalie D. Richards book I read.  She's really getting better at this thriller/mystery thing.  I really enjoyed what she did in this book with the contained setting.  We're really limited to the theatre and the mall, and there is a significant time limit so that it feels like everything is happening in real time.  It ups the level of tension and made it incredibly hard for me to put the book down.  I ended up reading it in two sittings because I just really needed to know.
I found the characters really interesting.  Jo was a good narrator and I felt like she had a lot of growth over the course of the book.  She starts out as really shy and uncomfortable in the spotlight and by the end I felt she had really developed her leadership skills.  I also really enjoyed the side characters that we got to spend a lot of time with.  Naomi and Quincy were both really interesting to me.  At first I didn't really like Hudson, but he had grown on me by the end.  I felt for the characters we lost along the way.
The killer's motivations felt realistic to me.  It wasn't a killing spree for nothing, he had some reasoning to it.  I was disgusted by his reasoning after we found out about it near the end of the story, but it was realistic motivation.
I think my biggest struggle with this book was that it was written in present tense.  I often struggle with books written in that tense because there's something about them that feels a little awkward to me.  However, I felt that this book really needed to be so that you're living the book through with the characters.  I liked how many of the chapters concluded with a snippet from an unknown character or news articles written after the fact so we got a perspective of how this was all effecting them once it concluded.  She did a good job of keeping us guessing about who was going to die and how.
Overall, if you like a time limited thriller, then I think that you will really enjoy this book.  Make sure to check it out when it comes out in May.