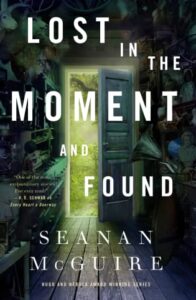 **Disclaimer: I recieved a free advanced reader's copy of Lost in the Moment and Found by Seanan McGuire in exchange for an honest review.  Thank you to NetGalley and the publishers for this opportunity.
Lost in the Moment and Found by Seanan McGuire is a fantasy novel in Seanan McGuire's Wayward Children series.  This novel revolves around a character named Antsy whose life when severely downhill after her father died.  She ends up running away from home and finding herself in the shop where all the lost things go.  The novel is set to be published on January 10th, 2023.  I rated it 5 stars on Goodreads.
Here's the summary from Goodreads:
A young girl discovers an infinite variety of worlds in this standalone tale in the Hugo and Nebula Award-winning Wayward Children series from Seanan McGuire, Lost in the Moment and Found.
Welcome to the Shop Where the Lost Things Go.
If you ever lost a sock, you'll find it here.
If you ever wondered about favorite toy from childhood… it's probably sitting on a shelf in the back.
And the headphones that you swore that this time you'd keep safe? You guessed it….
Antoinette has lost her father. Metaphorically. He's not in the shop, and she'll never see him again. But when Antsy finds herself lost (literally, this time), she finds that however many doors open for her, leaving the Shop for good might not be as simple as it sounds.
And stepping through those doors exacts a price.
Lost in the Moment and Found tells us that childhood and innocence, once lost, can never be found.
I cannot tell you how excited I was when I got approved for this novel.  I am obsessed with Seanan McGuire's Wayward Children series, and it is an automatic buy for me.  I think I've given almost all of them 5 stars.  When I saw that I was approved for this one, I had to throw my TBR out the window because I needed to read it next.   I'm so glad I did because I was absolutely not disappointed.
I really appreciated that the novel began with a trigger/content warning.  I'm not easily triggered by what I read, but I think it's really important that all books include at least a general trigger or content warning.  It's nice for people to be able to brace themselves and to know what they're getting into.  The way this one was written really left me prepared for what I was about to read.
I love the way that these novels are written.  The prose is always really lovely and descriptive.  I am always able to get a really clear picture of the world and how it is supposed to look.  I also really appreciate the pacing of them.  They're well developed and paced.  They're not overly long, and I feel the build up to the inciting incident wasn't over or under done. There was more than enough time to wrap up the story as well while still giving us a wonderful taste of different fantasy worlds.
I loved Antsy as a character.  She was really interesting and empathetic.  She was obviously quite young, but it was easy to understand her motivations and the reasons why she acted the way she did.  Her story absolutely made me cry as I watched her learn that adults were fallible and that she couldn't always trust the most important people in her life to have her best interests at heart.
I really enjoyed exploring the premise of the shop as well.  It's a common question to ask where lost things go, and I appreciated that Seanan McGuire gave us an answer.  Now whenever I lose a sock I will have to imagine it in the shop somewhere.
Overall, I highly recommend this story, and the whole series.  It's easy to read and low-commitment because even though there are eight books in the series (this is the 8th), they're not all consecutive so you can kind of dip in and out as your interest dictates.