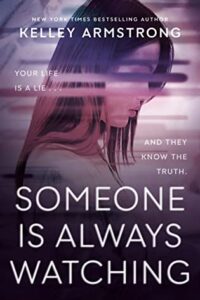 **Disclaimer: I received a free eARC of Someone is Always Watching by Kelley Armstrong through NetGalley in exchange for an honest review.  Thank you to NetGalley and the publishers for this opportunity.
Someone is Always Watching by Kelley Armstrong is a young adult mystery novel.  It features a group of young people who go to a private school run by the company their parents work for.  One girl begins acting very strangely and they quickly realize that something very strange is going on.  It is set to be published on January 3rd, 2023.  I rated it 3 stars on Goodreads.
Here's the summary on Goodreads:
Their lives are a lie. Their memories may not be their real memories. A new psychological thriller by #1 NYT bestselling author, Kelley Armstrong.
The experiment began with the best of intentions. Take a young child who is responsible for a traumatic death. Maybe their entire family perished in a fire they set. Maybe they shoved their sibling off a balcony during an argument. If the child is too deeply traumatized — and stigmatized — to ever lead a normal life, wouldn't it be better if they just . . . forgot?
It was a three-pronged approach: erase their memories, insert new ones, and return them to their parents or place them with a new family.
Blythe and her friends Tucker, Tanya, and Gabrielle, are now teenagers, attending a local high school, falling in and out of love with each other. But then a shocking event happens at school: Gabrielle is found covered in blood in front of their deceased principal, with no memory of what happened. It's becoming apparent that their pasts weren't erased — they were just walled up, and now those walls are crumbling.
Kelley Armstrong is one of my favourite writers, so I was excited to check out a newer young adult novel by her.  When I was in high school I really loved this supernatural series that she wrote.  More recently, I fell in love with her A Stitch in Time series.  Unfortunately, this one was not as good in my opinion.  It was still a fun read, but I just didn't love it as much.
I will admit that I fully forgot the premise of this when I picked it up through NetGalley, which is good because the summary kind of spoils the entire twist of the novel and I really enjoyed that reveal.  It's a little disappointing that they would spill so many beans about the novel in the summary.  Sure it doesn't specifically tell you what they did/what happened to them, but it just kind of took the oomph out of that reveal.
I struggled a little bit with the writing style in this one.  Present tense can be a hard sell for me to read as I sometimes find it quite jarring, and this was definitely the case.  It wasn't badly written, but it's just not always my favourite style.  I also didn't always love the dialogue between the characters.
However, I did for the most part enjoy the characters.  The novel is mostly from Blythe's perspective, which was interesting.  She's a very prim and proper character seemingly, and I enjoyed that depiction.  You also occasionally get snippets from other characters to reveal certain key details, but I didn't always love these dips into other characters' perspectives.  I would have preferred more of the reveals to come through Blythe, because the inconsitency of these point of view changes were a little hard for me to read.
The overall plot was really interesting.  Since I forgot the summary, I found myself shocked by the reveal of the memory experiments.  I also liked the dynamic between Blythe and Tucker.  They were both really interesting characters, and. I appreciated Blythe's inner turmoil.
Overall, it was an interesting story and while it didn't totally work for me, I can see where it would work for other people, so if you're intrigued then I highly suggest that. you check this book out when it comes out in January.