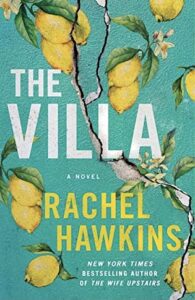 **Disclaimer: I received a free advanced readers copy of The Villa by Rachel Hawkins through NetGalley in exchange for an honest review.  Thank you to NetGalley and the publishers for this opportunity.
The Villa by Rachel Hawkins is an adult mystery thriller.  It covers two timelines: one where a struggling writing travels to Italy with her childhood best friend, and another where some young troubled people spend a summer in the same villa in Italy but it ends in tragedy.  It is set to be published on January 3rd, 2023.  I rated it 5 stars on Goodreads.
Here's the summary from Goodreads:
From New York Times bestselling author Rachel Hawkins comes a deliciously wicked gothic suspense, set at an Italian villa with a dark history, for fans of Lucy Foley and Ruth Ware.
As kids, Emily and Chess were inseparable. But by their 30s, their bond has been strained by the demands of their adult lives. So when Chess suggests a girls trip to Italy, Emily jumps at the chance to reconnect with her best friend.
Villa Aestas in Orvieto is a high-end holiday home now, but in 1974, it was known as Villa Rosato, and rented for the summer by a notorious rock star, Noel Gordon. In an attempt to reignite his creative spark, Noel invites up-and-coming musician, Pierce Sheldon to join him, as well as Pierce's girlfriend, Mari, and her stepsister, Lara. But he also sets in motion a chain of events that leads to Mari writing one of the greatest horror novels of all time, Lara composing a platinum album––and ends in Pierce's brutal murder.
As Emily digs into the villa's complicated history, she begins to think there might be more to the story of that fateful summer in 1974. That perhaps Pierce's murder wasn't just a tale of sex, drugs, and rock & roll gone wrong, but that something more sinister might have occurred––and that there might be clues hidden in the now-iconic works that Mari and Lara left behind.
Yet the closer that Emily gets to the truth, the more tension she feels developing between her and Chess. As secrets from the past come to light, equally dangerous betrayals from the present also emerge––and it begins to look like the villa will claim another victim before the summer ends.
Inspired by Fleetwood Mac, the Manson murders, and the infamous summer Percy and Mary Shelley spent with Lord Byron at a Lake Geneva castle––the birthplace of Frankenstein––The Villa welcomes you into its deadly legacy.
I really love Rachel Hawkins' thrillers, but I think this one was my favourite thus far!  It had a lot of elements to it, but all of those elements were things that really worked for me and I found myself incredibly immersed in the world.  I especially liked the dual timelines and getting snippets of the present and the past.
I found Emily a really compelling character, and I really felt for her as she struggled with her divorce and her writer's block.  She had some interesting background to her, and I liked that she was an author.  I found her dynamic with Chess really interesting, and problematic but that was clearly the point.  Rachel Hawkins handled it with a delicate hand that was just so well done.
When it came to the 1974 storyline, I was really intrigued by what was going to happen.  The start of the book really built up to this tragedy that happened and it makes you really want to know what is going to happen.  I appreciated the multimedia included with snippets of articles about it.  It really added to my sense of suspense.  Mari was a really interesting character, and although I didn't know a lot about Mary Shelley and Percy Shelley and Lord Byron, I still had fun drawing the parallels between them.
I love stories about celebrities so that was a fun aspect of both the present and past storyline.  They really encompassed two different aspects of celebrity and it was really fascinating.  It was a very interesting juxtaposition.
The tension increased quite well as the story progressed and I really had no idea where things were going to go.  However, I really enjoyed the journey.
Overall, I highly recommend this book. and suggest that you get yourself a copy when it publishes in January.