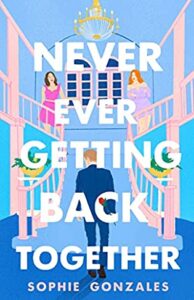 **Disclaimer: I received a free advanced readers copy of Never Ever Getting Back Together by Sophie Gonzales through NetGalley in exchange for an honest review.  Thank you to NetGalley and the publishers for this opportunity.
Never Ever Getting Back Together by Sophie Gonzales is a young adult romance novel about two girls who agree to go on a reality television show where the premise is to date your ex again and see if the romance is sparked once more.  Only, one of the girls came to the show for a different reason.  It is set to be published on November 29th, 2022.  I rated it 5 stars on Goodreads.
Here's the summary from Goodreads:
When their now famous ex-boyfriend asks them to participate in a teen reality show, two eighteen year old girls—one bent on revenge, the other open to rekindling romance—get tangled up in an unexpected twist when they fall for each other instead in Never Ever Getting Back Together by nationally and internationally-bestselling and Indie Next Pick author Sophie Gonzales.
It's been two years since Maya's ex-boyfriend cheated on her, and she still can't escape him: his sister married the crown prince of a minor European country and he captured hearts as her charming younger brother. If the world only knew the real Jordy, the manipulative liar who broke Maya's heart.
Skye Kaplan was always cautious with her heart until Jordy said all the right things and earned her trust. Now his face is all over the media and Skye is still wondering why he stopped calling.
When Maya and Skye are invited to star on the reality dating show Second-Chance Romance, they're whisked away to a beautiful mansion—along with four more of Jordy's exes— to compete for his affections while the whole world watches. Skye wonders if she and Jordy can recapture the spark she knows they had, but Maya has other plans: exposing Jordy and getting revenge. As they navigate the competition, Skye and Maya discover that their real happily ever after is nothing they could have scripted.
I am obsessed with this story.  I love these sort of pseudo celebrity stories and reality television stories.  This fit perfectly into that box, and I'm genuinely so glad that I read this.  The premise of a second chance romance reality television show sounds equal parts awful and like something that would be so fun to watch.  It makes a good premise for a book, and I did really enjoy that aspect of the story.  It was really fun to read about the drama and the manipulations the producers did in order to try and make the show entertaining, such as how many times they had to film moments in order to get the best shot of it.
In this novel we get the points of view of both Maya and Skye, and I really appreciated that we got both sides.  Both were interesting characters and both were well written.  I liked reading their perspectives and seeing their takes on either side of their respective relationships with Jordy.  They both brought something really interesting to the table.  I think I slightly preferred reading Maya's perspective because she was impulsive in an interesting way.  I also found her drive for revenge very interesting, but I also felt that she had really great character growth.  Skye was also really interesting to read about but I didn't love her as much as I loved Maya.  Both perspectives felt unique though.
The storyline was really well done.  I didn't know exactly how things were going to play out, and so it kept me guessing just a bit as we went through.  I didn't know how Maya would get even with Jordy, but I did really like reading about her plan.  It was decently twisty, but I liked that it came around to some pretty decent female friendships.  There was, of course, some cattiness at the start, but by the end of it all they were really strong friends, and I really appreciated that.
I will also say that I really enjoyed the romance between Skye and Maya.  I do enjoy when you get a bit of a slow burn relationship and this had elements of that.  They started off hating each other and then became allies and then became friends and then more.  It was a great progression and I loved being on that journey.
Overall, I had so much fun reading this story and I highly recommend it.  You should definitely get yourself a copy when it comes out in November.