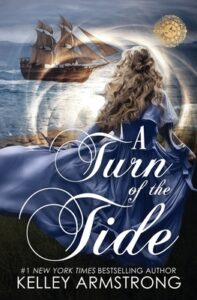 **Disclaimer: I received an advanced readers copy of A Turn of the Tide by Kelley Armstrong through NetGalley in exchange for an honest review.  Thank you to NetGalley and the publishers for this opportunity.
A Turn of the Tide by Kelley Armstrong is an adult romance novel based around the premise of time travel.  This is the third book in the series, and is focussed on the younger sister of the protagonist of the second novel.  Miranda goes through the time stitch hoping to see the future, and instead ends up in the past where she gets caught up in a fantastic adventure.  The novel was published on October 4th, 2022.  I rated it 4 stars on Goodreads.
Here's the summary from Goodreads:
In Thorne Manor there is one locked door. Behind it lies a portal to the twenty-first century, and nothing is going to stop Miranda Hastings from stepping through. After all, she is a Victorian writer of risqué pirate adventures-traveling to the future would be the greatest adventure of them all.
When Miranda goes through, though, she lands in Georgian England…and in the path of Nicolas Dupuis, a privateer accused of piracy. Sheltered by locals, Nico is repaying their kindness by being their "pirate Robin Hood," stealing from a corrupt lord and fencing smuggled goods on the village's behalf.
Miranda embraces Nico's cause, only to discover there's more to it than he realizes. Miranda has the second sight, and there are ghosts at play here. The recently deceased former lord is desperate to stop his son from destroying his beloved village. Then there's the ghost of Nico's cabin boy, who he thought safe in a neighboring city. Miranda and Nico must solve the mystery of the boy's death while keeping one step ahead of the hangman.
It may not be the escapade Miranda imagined, but it is about to be the adventure of a lifetime.
The first two books in this series were some of my favourite reads from last year.  They hit this little sweet spot in nostalgia in my reading taste while updating it for my current reading taste.  I was so excited to see this one on NetGalley, and I just really wanted to read it.  However, I found myself a little disappointed in comparison to the others.
Despite my disappointment, I still really enjoyed it.  I liked Miranda as a narrator.  It was interesting how she was so different from her sister, but you could still see how much she clearly was influenced by her sister.  I also liked her boldness in going into the time stitch despite not knowing what exactly that she might find on the other side.
Nico made for a good love interest, and I really liked hearing his story and how he got into privateering.  I found him to be a strong love interest, and I liked the dynamic he had with Miranda as the story progressed.  It was also great to see the characters from the first two books.  It's something that I really like in series.
I will admit that I did find the insertion of some of the more modern sentiments a little bit jarring when the novel was set so far in the past and both characters are from the past.  I suppose it's not impossible that they would have those kinds of beliefs, but it just seemed a little strange to me.  Overall, I did still have a lot of fun reading this book.
So if you like books about time travel and romance, then I highly suggest that you check out this series.