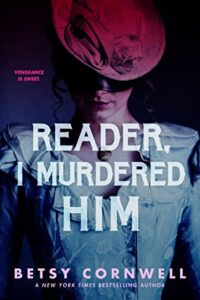 **Disclaimer: I received a free advanced readers copy of Reader, I Murdered Him by Betsy Cornwell through NetGalley in exchange for an honest review.  Thank you to NetGalley and the publishers for this opportunity.
Reader, I Murdered Him by Betsy Cornwell is a young adult historical fiction novel.  The novel is narrated by Adele, Mr. Rochester's ward from Jane Eyre.  The story details how she came to be with Mr. Rochester and then her life after the events of Jane Eyre, so you get to see how she could have hypothetically ended up.  The novel is set to be published on October 11th, 2022.  I rated it 4 stars on Goodreads.
Here's the summary from Goodreads:
In this daring tale of female agency and revenge from a New York Times bestselling author, a girl becomes a teenage vigilante who roams Victorian England using her privilege and power to punish her friends' abusive suitors and keep other young women safe.
Adele grew up in the shadows–first watching from backstage at her mother's Parisian dance halls, then wandering around the gloomy, haunted rooms of her father's manor. When she's finally sent away to boarding school in London, she's happy to enter the brightly lit world of society girls and their wealthy suitors.
Yet there are shadows there, too. Many of the men that try to charm Adele's new friends do so with dark intentions. After a violent assault, she turns to a roguish young con woman for help. Together, they become vigilantes meting out justice. But can Adele save herself from the same fate as those she protects?
With a queer romance at its heart, this lush historical thriller offers readers an irresistible mix of vengeance and empowerment.
I listened to this book as an audio galley with a synthetic voice narrator.  The synthetic voice is always a little bit strange, but it was okay to listen through.  The book was relatively fast paced, so it was a pretty quick listen even on 2x speed.
The narration was a different style than is usually my favourite.  The story is sort of told to you, with Adele recounting the events from her life in a way that occasionally breaks the fourth wall.  It was an interesting style of writing, but something about it really worked for me this time.  Perhaps it was because Adele was a more intriguing narrator to me.
I think the real draw for me with this book was. who Adele was.  It was extremely interesting to me that she was the character from Jane Eyre.  They don't spend a lot of time on her in the book and she's kind of shunted off near the end, so getting to explore her further in a different way was really interesting to me.  I liked her a lot. She's got an interesting perspective on things.
The novel is relatively short, though I felt it took a little while to get into the main plot as is described in the blurb.  However, I enjoyed the journey.   The main plot was engaging with some good twists.  It made some interesting statements about women during that historical period, that are probably still relevant now.  I liked the dynamics of female friendship.
There was a twist in this that completely blindsided me, and I will not tell you the reveal, but it was one that once I thought about it, it completely made sense.  I really enjoyed it.
Overall, if you're intrigued by the plot or what I have said, but I highly recommend that you check it out when it publishes in October.