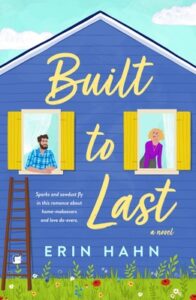 **Disclaimer: I received a free eARC of Built to Last by Erin Hahn through NetGalley in exchange for an honest review.  Thank you to NetGalley and the publishers for this opportunity.
Built to Last by Erin Hahn is an adult contemporary romance novel.  It stars two former childstars who were each other's first love who reunite to work together on a home renovation show.  Built to Last is set to publish on October 18th, 2022.  I rated it four stars on Goodreads.
Here's the summary from Goodreads:
Two childhood sweethearts find a second chance at love in this adult romance debut from a critically acclaimed young adult author.
Shelby Springfield has spent the last ten years trying to overcome her past, sanding it away like she does the rough spots on the vintage furniture finds she makes over. But as a former child star, it's hard to forget a mediocre pop career, a meltdown widely documented by the paparazzi, and a huge public break with her former co-star Lyle Jessup. It's also hard to forget her other co-star and childhood sweetheart, Cameron Riggs — the one who got away.
Anytime Shelby has called, Cameron has come running… And then he runs right off again to chase stories around the world by making documentaries, too scared to admit what he really wants. But when Lyle stirs the pot, getting the two back in the spotlight with a home renovation show, Cameron can't help but come on board.
There's something in it for everyone — almost. Cameron wants to come home and set down some roots. Shelby wants to prove to the world she's not the messy party girl anymore. And Lyle wants to twist the screws on his two childhood friends who had more chemistry than he could dream of with anyone. Sparks and sawdust fly as Shelby and Cameron film the pilot for "Homemade" and battle Lyle's shenanigans at every turn.
Erin Hahn's sparkling rom com debut, Built to Last, is a second chance romance sure to have readers falling in love fast.
Erin Hahn is one of my all time favourite authors, and she's definitely on my auto-buy list, and I guess auto-request from NetGalley as well.   I've read and loved all three of her YA titles and so I was excited to see what she would do with an adult romance novel.   Romance isn't my favourite genre but I've had a lot of fun reading it lately.
I was not at all disappointed by this book, and honestly had so much fun reading it.  I like reading celebrity romances apparently because I really enjoyed reading about how the characters came up together as child stars and also about the pressures of fame that came with that.  I also liked reading about how they dealt with it as adults.  It speaks to the fascination a lot of people have with celebrities and while I'm not the biggest on reading tabloids, I can't say I'm not interested in knowing what the lives of the social elite are like.
I really enjoyed the romantic tension that was present between Shelby and Cameron from pretty much page one.  They're really interesting characters and I felt like they had a great dynamic.  Cameron is a pretty great book boyfriend as far as book boyfriend's go.  He's quite dreamy.  I also liked seeing how much Shelby grew from the prologue at the start of the book to how she was as more of an adult.
Storyline wise, I liked that there wasn't a ton of relationship conflict once they actually got together.  I liked that the plot was more about them dealing with the Hollywood manipulations of Lyle.  I prefer that kind of messy drama in a romance to the near the end relationship split.
I also really liked that it was tied in to the rest of her Hahn-universe as it mentioned Annie Mathers, who was one of the protagonists of You'd Be Mine, her debut novel.
This wasn't my favourite ever novel by Hahn, but it was a great adult debut with a great helping of spice.  I highly recommend that you check this one out if you like adult novels.  It's a great, fun read.