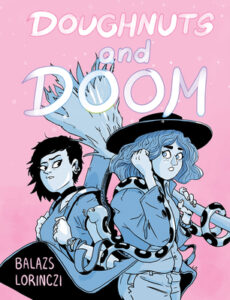 **Disclaimer: I received a free advanced readers copy of Doughnuts and Doom by Balazs Lorinczi through NetGalley in exchange for an honest review.  Thank you to NetGalley and the publishers for this opportunity.
Doughnuts and Doom by Balazs Lorinczi is a young adult graphic novel about a witch who accidentally curses a musician who works at a doughnut shop and has to right her wrong.  It is set to be published on September 20th, 2022.  I rated it 4 stars on Goodreads.
Here's the summary from Goodreads:
Being a teenage witch–or rock star–is tougher than it looks! But maybe enemies can become friends…or more? Flying brooms and electric guitars set hearts aflame in this fantastically fizzy graphic novel.
When Margot meets Elena, emotions run high, magic is in the air, and doughnuts…float? One is a stressed-out witch trying to get her potions business off the ground, the other is a struggling rock musician whose band is going nowhere. Neither of them are having a good time! No wonder things quickly escalate from words to literal sparks flying when they first meet. Could this be the start of a delicious new relationship…or is a bad-luck curse leading them to certain doom?
This sapphic graphic novel is super cute.
The art style is really adorable.  I like the design of the characters.  They are well drawn and the panels are well illustrated.  I liked the minimal use of colour because it made it really easy to tell when magic was going to be used because the pink colour was really highlighted.  I really enjoyed the visuals of the graphic novel.
The storyline was also cute.  I liked the idea of magic being a fairly accepted part of the world, and how witches would have to go through testing in order to be properly licensed to practice.  I liked the unfortunate way Margot and Elena come together, and how they go from enemies to friends to something more as the story progressed.  They had a really good dynamic, and I found myself really engaged in the story the whole way through.
Overall, I highly recommend that you pick up this graphic novel when it comes out!