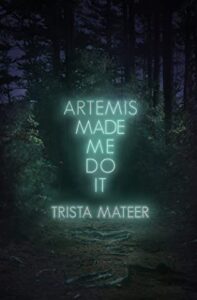 **Disclaimer: I received a free advanced readers copy of Artemis Made Me Do It by Trista Mateer through NetGalley in exchange for an honest review.  Thank you to NetGalley and the publishers for this opportunity.
Artemis Made Me Do It by Trista Mateer is a collection of poetry from the author's perspective but also from the perspective of the Greek god Artemis.  It is set to be published on September 6th, 2022.  I rated it three stars on Goodreads.
Here's the summary from Goodreads:
Bestselling and award-winning author Trista Mateer returns with another magical approach to self-care in her newest goddess-themed poetry collection, Artemis Made Me Do It. 
Using the framework of tarot and conversation, Mateer approaches myth through a witchcraft-inspired lens and uses it to explore timeless issues like burnout, survival, trauma, and the restorative power in taking control of your own lore.
Artemis speaks to what is wild and untamed in all of us, and in this new collection, she asks for a moment of calm.
I have to admit that modern poetry isn't always my thing, and about half of this collection felt that way for me.
The real standout in this collection are the parts that take on the perspective of Artemis.  Her narrative was really compelling and I found it really interesting to read about her thoughts on various moments from her myths.  I really wanted more of the collection to be from her perspective and to read more of Trista Mateer's take on the goddess' perspective.
I also liked the moments of art in between the different poems.  Some of them were quite lovely.
I didn't love the poems about Trista Mateer as much, but there were still some really good ones.  I found some of the themes she reflected on quite poignant.
If you like modern poetry, then I definitely recommend this collection to you.  It was well written, just not completely persoanlly for me.