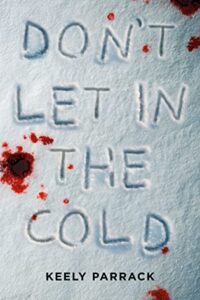 **Disclaimer: I recieved an eARC of Don't Let in the Cold by Keely Parrack through NetGalley in exchange for an honest review.  Thank you to NetGalley and the publisher for this opportunity.
Don't Let in the Cold by Keely Parrack is a young adult thriller novel.  It is about a teenage girl named Lottie who is set to stay at a remote cabin with her new stepsister for a night while her mom goes on her honeymoon with her step dad.  Unfortunately, things go horribly wrong.  It is set to be published on September 6th, 2022.  I rated it four stars.
Here's the summary from Goodreads:
The storm isn't the only thing they'll have to survive.
It was supposed to be just one night in the cabin: one night for Lottie and her brand new stepsister, Jade, to try to get along. When a solar flare causes a massive blackout―no power or cell signal―Lottie knows they've got a long night ahead of them.
Then, in the dark, someone else shows up at the cabin―a stranger named Alex, claiming to be lost and needing shelter from the coming snowstorm. But later that night, Lottie spies him in the driveway talking to two mysterious men in a pickup truck, and she's sure he's lying about why he's here.
Before Lottie can find out more, a fire forces her, Jade, and Alex out into the blizzard, where they must rely on one another to get to safety―wherever that is. In the remote, freezing Tahoe wilderness, they have to survive more than just the elements. Soon it becomes clear that Alex's accomplices are hunting for all three of them, in a scheme that's gone too far and taken a chilling, deadly turn.
I think it was the cover that drew me in on this one, but once I read the summary I knew I wanted to read it.  I really enjoy isolated thrillers with snowstorms, and have read a few in recent years.   I wanted to see how this one held up.  It was a good young adult thriller.
I found Lottie an interesting character.  I liked how we slowly learned about her history and why she acted the way that she did.  I also liked getting to watch the developing of her relationship with her stepsister, Jade.  They had a really rocky go of it, but they really grew together.   They have a really great dynamic.  However, I suppose life or death experiences really help to bond you.
I liked the general premise of the story.  The isolation of the cabin and the stranger that claimed to need shelter,  all added a real sense of tension.  I liked reading about Lottie trying to figure out what was going on with Alex.  She kept going back and forth, and it was interesting to read about her thought process.  When they had to leave the house and venture out, that was also interesting to read about as it provided a different element to the story that I hadn't been expecting, despite it literally being in the blurb.
It had decent writing, and some good moments.  However, there were some parts that I could have done without.  I didn't love the romance between Alex and Lottie.  It felt like it came a little out of nowhere, and I wanted more of a build up to it.  I also didn't understand why Lottie thought her mom would think she was a total screw up (even though she majorly had).  The story never really backed up the reasoning on that, and then I felt like it completely disappeared from the narrative by the end.
Overall though, I had a super fun time reading it and I definitely recommend that you check it out when it publishes in September.