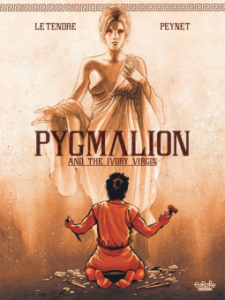 **Disclaimer: I received a free advanced readers copy of Pygmalion and the Ivory Virgin by Serge Le Tendre through NetGalley in exchange for an honest review.   Thank you to NetGalley and the publishers for this opportunity.
Pygmalion and the Ivory Virgin by Serge Le Tendre is an adult graphic novel that tells the story of Pygmalion and the statue he carved into the perfect woman that eventually she was brought to life.  It was published on June 22, 2022.  I rated it 4 stars on Goodreads.
Here's the summary from Goodreads:
After "La Gloire d'Hera" and "Tirésias," Serge Le Tendre is back with a new Greek tragedy.
Convinced that an extraordinary destiny awaits him, the young sculptor Pygmalion throws himself into the creation of a work that will change his life. He carves an ivory statue of his ideal woman, leading him to lose his mind and shut himself away, even rejecting the passionate and very real love of a young woman named Agape… The gods often meddle in the affairs of men, so Aphrodite, the goddess of love, decides to give the statue life in answer to Pygmalion's mad desires. But there is a price to pay!
I enjoy adaptations of myths whether they are in the graphic novel format or whether they are in prose format.  This one was obviously in graphic novel format, and it was quite well done.  I didn't know a whole lot about the story of Pygmalion, but I did find myself quite intrigued by it.  From what I had read before, Pygmalion didn't sound like that great of a person, but I did want to learn more of his story.
The art in the graphic novel was really great.  The characters were well designed.  They had a unique to look at them.  They were all easy to tell apart.  I liked the way that the panels were. designed and how the story all came through them.  The use of colour was great.  I really enjoyed the realistic art style.
The story line was interesting as well.  I didn't super love Pygmalion as a character, and I don't think he necessarily deserved to get the love from Galatea/his transformed statue.   However, the way he came across the idea to make her, and the way he got the material were all interesting layers of depth. I will admit that the myth I had read previously was very shallow in the layer of depth that was included.  There were probably more details to the story than I was aware of.  I liked the engagement plot and how Galatea came to life.
There was good pacing to the story, and an appropriately tragic end.  Overall, it was quite well done and I definitely recommend that you check it out if you are at all intrigued by the premise.