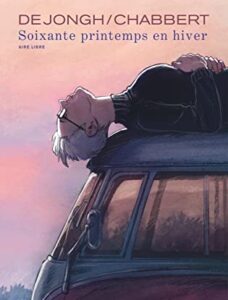 **Disclaimer: I received a free advanced readers copy of Sixty Years in Winter by Ingrid Chabbert through NetGalley in exchange for an honest review.  Thank you to NetGalley and the publishers for this opportunity.
Sixty Years in Winter by Ingrid Chabbert is an adult graphic novel.  It's about a woman who decides to leave her husband on her sixtieth birthday and to strike her own path.  On the way she discovers who she really is.  It was published on June 22, 2022.  I rated it 4 stars on Goodreads.
Here's the summary from Goodreads:
A subtle and touching tale of liberation, following a protagonist on the path to self-discovery. On the day of her sixtieth birthday, Josy refuses to blow out the candles on her cake. Her bags are packed. She's come to a decision: she's going to win back her freedom by taking off in her old Volkswagen minibus! Even if it means leaving behind her husband and family. In a state of shock, they all blame her for making such a selfish move. But is it really so selfish to listen to that little voice deep within? Josy soon finds support among new friends who have faced similar scorn and incomprehension from family and society… But will that be enough to stop her from leaving once more? Perhaps a newfound love can help her find her way…
I really enjoyed this graphic novel.  I had not a single clue of what to expect going into it, so I found myself both surprised and delighted by it.
Josy was a really interesting character.  She's well written, and well developed.  You feel for her in the choice that she has made to leave her husband and you feel for her as she works to discover herself and who she really is.  I've never read a book from the perspective of a woman of her age, but I found this one really interesting.  It's a graphic novel so you can't really say she was a compelling narrator, but she was a compelling character.
The art style was really nice.  I liked the use of colour and the realistic design of the characters.  It was clear who each person was, and there was in general so very nice detailing.  I liked the way the panels were designed, and I also enjoyed the occasional full page design that was included.
The story was well written.  I especially liked the brief romance that was included.  The build up of it was relatively quick, but the way that they interacted on their way to them getting together made a lot of sense to me.  You could feel the butterflies and the spark as it was built.
Overall, I highly recommend this graphic novel for adult readers.   You should definitely check it out.