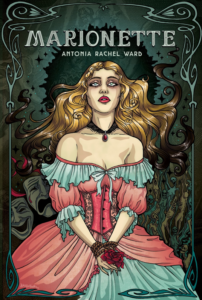 **Disclaimer: I recieved an advanced reader's copy of Marionette by Antonia Rachel Ward through NetGalley in exchange for an honest review.  Thank you to NetGalley and the publishers for this opportunity.
Marionette by Antonia Rachel Ward is a dark fantasy romance set in the past in France.  It features a young exotic dancer named Cece who takes an opportunity to change her fortunes and becomes possess by a ghost who wishes to return to life to exact revenge against those who have wronged her.  It also features the perspective of a young artist named George, who comes to France to work on his art and falls in love with Cece.  It was published on August 16th, 2022.  I rated it 2 stars on Goodreads.
Here's the summary from Goodreads:
On the run from a life of prostitution and poverty, exotic dancer Cece Dulac agrees to become the main attraction at an erotic séance hosted by an enigmatic mesmerist, Monsieur Rossignol. As the séance descends into depravity, Cece falls prey to Rossignol's hypnotic power and becomes possessed by a malevolent spirit.
George Dashwood, an aspiring artist, witnesses the séance and fears for Cece. He seeks her out and she seduces him, but she is no longer herself. The spirit controlling her forces her to commit increasingly depraved acts. When the spirit's desire for revenge escalates to murder, George and Cece must find a way to break Rossignol's spell before Cece's soul is condemned forever.
Marionette is an erotic horror novella inspired by traditional folk tales and set in fin de siècle Paris.
This book was an interesting read.  I will fully admit that it wasn't really for me, but I was still curious, and I was right.  It wasn't really for me, and that's where this particular rating came from.  I tend to rate on the basis of how much I enjoyed something and this just wasn't the vibe.   There are definitely lots of readers who will enjoy this kind of book.
Outside of it not being for me, objectively, I felt that it was well written.  The characters were interesting to me, and I liked that we got both Cece and George's perspective.  It was really interesting to get two sides of the story.  The basic premise of the plot was interesting.  I like the idea of a ghost possessing someone to try and come back to life and to seek revenge.  That was fascinating.  However, I didn't like that it meant she was participating in sex acts without being able to consent to them.  But to be fair, I was warned about that at the beginning of the novel because it did give you content warnings.
One of the things I didn't really enjoy was the fact that it felt like insta-love.  Cece apparently had this absolutely irresistable quality and immediately George was head over heels and supposedly her true love.  I just wanted a bit more of a development there.  Though it was a novella, so it's going to be fast paced in that sense.
If you find the plot interesting, I would still suggest that you read it.  Everyone should make their own decision.