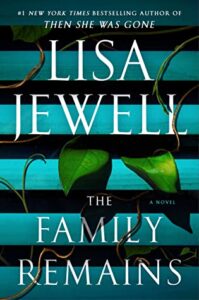 **Disclaimer: I received a free advanced readers copy of The Family Remains by Lisa Jewell through NetGalley in exchange for an honest review.  Thank you to NetGalley and the publisher for this opportunity.
The Family Remains by Lisa Jewell is an adult mystery thriller and a sequel to Jewell's novel The Family Upstairs.  The novel picks up on threads left behind from the first novel.  We follow Henry and Lucy Lamb in their search for Phin Thomsen, and we also follow Rachel and her relationship with her husband who was murdered.  We also get the perspective of a detective who is investigating a skeleton found in a bag in the River Thames.  It was published on August 9th, 2022.  I rated it 4 stars on Goodreads.
Here's the summary from Goodreads:
From the #1 New York Times bestselling author Lisa Jewell comes an intricate and affecting novel about twisted marriages, fractured families, and deadly obsessions in this standalone sequel to The Family Upstairs.
Early one morning on the shore of the Thames, DCI Samuel Owusu is called to the scene of a gruesome discovery. When Owusu sends the evidence for examination, he learns the bones are connected to a cold case that left three people dead on the kitchen floor in a Chelsea mansion thirty years ago.
Rachel Rimmer has also received a shock—news that her husband, Michael, has been found dead in the cellar of his house in France. All signs point to an intruder, and the French police need her to come urgently to answer questions about Michael and his past that she very much doesn't want to answer.
After fleeing London thirty years ago in the wake of a horrific tragedy, Lucy Lamb is finally coming home. While she settles in with her children and is just about to purchase their first-ever house, her brother takes off to find the boy from their shared past whose memory haunts their present.
As they all race to discover answers to these convoluted mysteries, they will come to find that they're connected in ways they could have never imagined.
In this masterful standalone sequel to her haunting New York Times bestseller, The Family Upstairs, Lisa Jewell proves she is writing at the height of her powers with another jaw-dropping, intricate, and affecting novel about the lengths we will go to protect the ones we love and uncover the truth.
I was excited to read the sequel to The Family Upstairs, which I reviewed on this blog.  You can find it here.  I wanted more of that story, and to see where the characters ended up.  I also wanted it to answer some more of my questions.  I also really liked the additional perspective on aspects of the story that weren't covered in the first novel.  It was very well done.
I found this book really compelling.  Henry is a fascinating narrator and his mind is definitely twisted.  It was very interesting to read his thoughts and to be honest, suspect the worst of him.  He hasn't done much to give you faith in him as a character, so I found myself surprised by him at the end of the novel in more than one way.
I also liked reading from Lucy's perspective, because she's an empathetic character who has done some terrible things.  However,  you want her to succeed.  She's always done her best for her kids, and you can really see that in both of these novels.  I wanted her to get through this in a positive light.  I also found it interesting to get Marco's perspective and to see how he sees his mother.  It was also great to see his technological savvy.
I found Rachel's perspective hard to read because of the content of it.  I felt for her as you watched her slowly fall into an abusive relationship and also get herself out of it.  She too was an empathetic character, and it was hard to read her be gaslit.  I will admit that it took me a minute to remind myself of who Michael was, but it once I did, it was definitely a worth while point of view to add.
I think my least favourite point of view was that of the detective.  He had an incredibly interesting storyline, but I had a hard time reading his sections due to how they were written.  I'm not quite sure, but it felt a little bit awkward in the phrasing of the dialogue.  However, the mystery he was trying to solve was very engaging, and I liked watching him slowly connecting the dots and adding some other perspectives to the story from the first novel.
I would recommend that you read the first book before you read this one, but it was easy enough for me to put together the pieces of what happened in the first one, since it had been a while since I had read it and I had forgotten some details. So, if you've read the first one and are interested in the second one, I would highly suggest that you check it out!