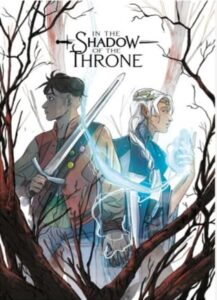 **Disclaimer: I recieved a free eARC of In the Shadow of the Throne by Kate Sheridan through NetGalley in exchange for an honest review.  Thank you to the publishers and NetGalley for this opportunity.
In the Shadow of the Throne by Kate Sheridan is a young adult fantasy graphic novel about a young boy who accidentally finds his way into a fantasy world where magic is outlawed, yet magic seems to be stirring in the outskirts of the city.  I rated it four stars on Goodreads.  It is set to be published on August 30th, 2022.
Here's the summary from Goodreads:
When his younger siblings and parents begin to irritate him on vacation, Jordan tries to get some space. But instead of wandering around the museum, he finds himself dropped in a fantasy world of magic where he can finally have some fun and train to become a knight. Except Prince Astel and Sir Griffith are about to uncover a sinister secret kept hidden by the Queen that'll thrust Jordan in the middle of a magical battle he never could have anticipated.
Join writer Kate Sheridan (Flash Gordon, Adventure Time: Fionna & Cake) and artist Gaia Cardinali (Disney Mulan's Adventure Journal: The Palace of Secrets) on Jordan's epic fantasy adventure that'll test how much he really wants to get home.
I was really intrigued by the world that Kate Sheridan and Gaia Cardinali built.  I have always enjoyed portal fantasy where someone from our world finds their way into a fantasy world and has to work in an unfamiliar environment. This graphic novel really handled that well.  Jordan literally stumbled into a fantasy world and he handled it quite well.  I liked how he incorportated himself into the world and did his best to survive everything that was going on.
I liked how he related to the other characters.  He got along quite well with Sir Griffith and I felt that their dynamic was quite interesting.  However, I especially enjoyed the dynamic between Jordan and Prince Astel.  I liked how they didn't initially get along but things changed as the story progressed.
The story overall was quite well written.  I felt that it was a really interesting plot, and the conflict was compelling.  I wanted to find out what was going on and I was really interested in the events.  There were some twists to keep me guessing, and it was very well paced.
The art was also beautiful, and I really enjoyed the design of the characters.
Overall, I highly recommend that you check out this graphic novel when it publishes in August.