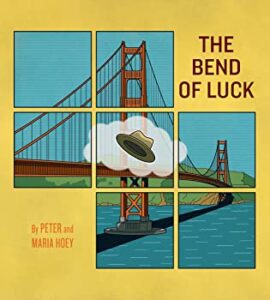 **Disclaimer: I received a free early access copy of The Bend of Luck by Peter Hoey through NetGalley in exchange for an honest review.  Thank you to NetGalley and the publishers for this opportunity.
The Bend of Luck by Peter Hoey is a fantasy graphic novel about a physical manifestation of luck and how it changed the course of a family's life.   It is was published on August 2nd, 2022.  I rated it 4 stars on Goodreads.
Here's the summary from Goodreads:
Some guys have all the luck… but not all luck is good. The award-winning duo behind Coin-Op Comics return with a mind-bending tale of fortune and family.
Imagine a world where Luck, the most ephemeral of ideas, has a physical form. Precious stones of luck, mined like gold, are worn as bringers of fortune. But luck breaks both ways. While the blue gems may grant advantage to those who wear them, their blessing is fickle and unpredictable. In the blink of an eye, good luck can turn to bad. We follow the life of a man who comes into possession of some powerful stones — but the success enjoyed by the father goes awry when he tries to pass this luck onto his son. In alternating scenes between the two generations, The Bend of Luck follows felicity's course, like an arrow, through a family's destiny.
This story was really well structured.  It gave you snippets of various seemingly unconnected stories, and then slowly tied them all together and by the end you were easily able to see how all of the pieces of the puzzle fit together.   It was well done in that sense.  The plot was pretty fantastical, but I liked the idea of luck being a physical concept.  There would definitely be serious repercussions for a hot commodity like that.  It made logical sense.
I really liked the art style.   The characters were fairly generic in their design, but it worked for the story.  It was a really clean art style.  The panels had good flow to them, and they worked well with each other. It was, overall, very nice in how it was done.  I liked how it was paced, and how I was able to keep trying to put all the pieces together.
The characters weren't the most well developed, but it made sense for the context of this story.  It was pulling together a lot of threads into one complete picture.  It did a pretty decent job giving you a good idea who the characters were at a solid surface level.
It was a fun read, and it really kept me interested as I read all the way through.  If you're at all intrigued by the premise, I definitely suggest that you check it out.