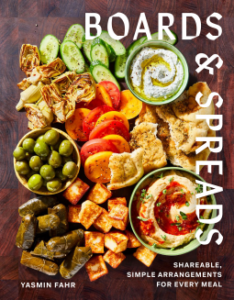 **Disclaimer: I received a free advanced readers copy of Boards and Spreads by Yasmin Fahr through NetGalley in exchange for an honest review.  Thank you to NetGalley and the publishers for this opportunity.
Boards and Spreads: Shareable, Simple Arrangements for Every Meal by Yasmin Fahr is a cookbook of quick recipes that are easy to share if you have friends over.  It is set to be published on August 23rd, 2022.  I rated it three stars on Goodreads.
Here's the summary from Goodreads:
Feast upon more than 65 recipes for platters and boards, including dinner-worthy spreads, appetizers, breakfast, snacks, and more inspiration for anytime-eating
Boards All Day presents more than sixty-five recipes for beautiful, delicious boards and epic spreads for sharing-friendly meals, from breakfast through dinner. Going far beyond the standard cheese board or charcuterie board, here you will find countless ideas for how to create colorful platters and spreads with easy, flavorful recipes to fill them, like the Italian Aperitivo Board with Crispy Prosciutto Caprese; Any-Night Tacos with super-quick sheet pan shrimp, and rotisserie chicken that you spice up yourself; and breakfast spreads like the make-your-own Egg Pita Sandwich Board. Even drinks can be served board-style, whether it's a Bloody Mary Bar or the DIY Daytime Drinks set-up for a crowd. Plus, there are plenty of quick recipes for dips, snacks, and other fun add-ons that you'll turn to time and time again for countless meals, like Za'atar Flatbread, Smashed Olives, Quick-Pickled Shallots and Jalapenos, and Two-Minute Feta Dip.
Whether you're looking for a snackable spread or grazing board to serve when having people over, searching for the perfect food to share for an outdoor get-together, or simply looking for easy-to-make recipes that you can throw together on a whim, Boards All Day is full of ideas for turning everyday ingredients into festive, low-effort meals.
I have to admit that this cookbook wasn't exactly what I was expecting.  I thought it might be more along the lines of tips and tricks for creating a more charceuterie board style spread.  There were some elements that were similar to that idea, but mostly it was a very different concept.
I appreciated the simplicity of how the recipes were laid out, but most of them turned out to not be my style of food as I am a pretty picky eater.  There were a couple of recipes that I screenshotted to perhaps use in the future, but everything else wasn't really in my taste wheelhouse.
However, if you're at all intrigued by the idea of this book and are a more adventurous eater than I am, then I would still suggest that you check out this collection of recipes.  Some seemed pretty tasty.