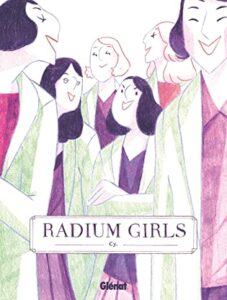 **Disclaimer: I recieved a free eARC of Radium Girls by Cy. through NetGalley in exchange for an honest review.  Thank you to NetGalley and the publishers for this opportunity.
Radium Girls by Cy. is a non-fiction graphic novel about a group of women who got radium poisoning through their work and ended up launching a change in the rights of workers.  It is set to be published on August 23, 2022.  I rated it 4 stars.
Here's the summary from GoodReads:
It's 1918 in Orange, New Jersey, and everyone knows the "Ghost Girls."
The proud holders of well-paying jobs at the local watch factory, these working-class young women gain their nickname from the fine dusting of glowing, radioactive powder that clings to their clothes after every shift painting watch dials. The soft, greenish glow even stains their lips and tongues, which they use to point the fine brushes used in their work. It's perfectly harmless . . . or so claims the watch manufacturer.
When teeth start falling out, followed by jawbones, the dial painters become the unprepared vanguard on the frontlines of the burgeoning workers' rights movement. Desperate for compensation and acknowledgement from the company that has doomed them, the Ghost Girls must fight, not just for their own lives but the future of every woman to follow them.
A stunning graphic novel retelling of the shocking and inspiring true story.
I have been loving graphic novels lately, and I did really enjoy this one too.  I have to admit that I didn't really know anything about these Radium girls prior to reading the graphic novel, and in that way it was quite informative.  I learned a lot about what happened to them, and how things went so downhill for them.  I appreciated the historical note that let the reader know about what exactly their sacrifice led to.
The art style in this graphic novel was really beautiful.  I loved the sketchy style and the colours.  I was really impressed at how the author was able to emphasis the glow from the radium throughout the story.  The only thing I struggled with was occasionally I had a hard time telling certain characters apart.  I just couldn't really differentiate between some of them.  However, that didn't really take away from the story too much.
I loved reading about their friendships.  It was really lovely to see.  It made it all the more devastating to read about as they started to get sick and pass away.  I wanted to get to know the women a little bit more too.
Overall, I definitely recommend that you check this graphic novel out!