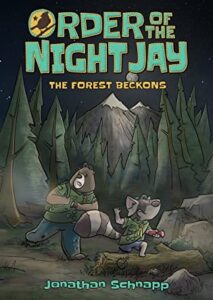 **Disclaimer: I received a free advanced readers copy of Order of the Night Jay: The Forest Beckons by Jonathan Schnapp through NetGalley in exchange for an honest review.   Thank you to NetGalley and the publishers for this opportunity.
Order of the Night Jay: The Forest Beckons by Jonathan Schnapp is a middle grade graphic novel.  It is about a shy, young bear who goes to a summer camp and makes friend with an adventurous raccoon. as no one else seems to want to be friends with the bear.  They get caught up in an adventure.  It was published on July 26th, 2022.  I rated it three stars on Goodreads.
Here's the summary from Goodreads:
Making friends can be hard for a nervous bear, even at summer camp. But Frank's about to discover a mystery… and the camp needs him to save the day!
Frank is perhaps the most un-bear-like bear Camp Jay Bird has ever seen. Actually, he's probably the ONLY bear Camp Jay Bird has ever seen. And there are tons of bugs, he's getting picked on, and he can't seem to earn a single badge! But there's Ricky, an excitable little raccoon who shares Frank's love of Mega Bunny comics. But Ricky's friendship might be more than Frank can handle. After breaking camp rules, getting lost in the woods, and discovering ancient secrets about the long-forgotten Order of the Night Jay, how will Frank explain all this to his dad?
This was a cute graphic novel.  The art style was really cute.  I liked the design of the characters and how adorable they were.   The colours looked really nice, and I liked the way the panels were structured.  It was a very well put together graphic novel.  I also really liked that the characters were animals.   It made it feel more unique than other middle grade camp graphic novels I have read.
The overall premise of the story was interesting to me,  but it felt a little unfinished narratively.   I recognize that it is the first in the series and there is likely more of the story to come.  However, I wanted a bit more of a resolution rather than a cliffhanger ending.  I just wanted a bit more of a longer arc, but it felt like it just abruptly ended when it was starting to get good.
I felt that a lot of the themes in the story were quite relatable.  Everyone feels out of place sometimes.  That's especially relatable to preteens.  This is a story that will be really enjoyable for someone in that age group, and it is a story that I can see kids revisiting again and again.  It was cute, and it was a fun read.  I had a good time reading it, though it wasn't my favourite graphic novel that I've read recently.
If you're intrigued, I would definitely suggest that you check it out.