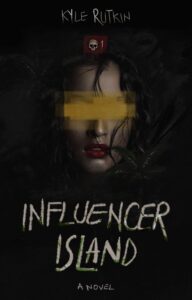 **Disclaimer: I received a free early access copy of Influencer Island by Kyle Rutkin through NetGalley in exchange for an honest review.  Thank you to NetGalley and the publishers for this opportunity.
Influencer Island by Kyle Rutkin is an adult mystery thriller told in podcast format.  It is about a podcaster who investigates an event hosted by a mysterious artist on a private island.  It is also about a woman who goes to that island to compete in that event and her search to find out what happened to her brother.  It was published on July 30th, 2022.  I rated it 4 stars on Goodreads.
Here's the summary from Goodreads:
FYRE FESTIVAL meets HUNGER GAMES in this dark psychological thriller about a social media competition that turns deadly.
Welcome to Influencer Island, an experience for ten competitors to travel to paradise and compete for social media glory. Overnight, millions of users send off their submission videos, hoping for the chance to party with the biggest influencers and celebrities in the world.
Or so they thought…
By the time the contest went offline, over a dozen influencers were declared dead or missing. No winner was announced. The only hope for a conclusion lay in an unaired podcast produced by Cal Everett, a young reporter with his own mysterious connection to the murderous contest creator, Wyatt James.
As listeners will soon discover, James designed Influencer Island to be more than a battle of social media wits. If the contestants hope to survive, they will have to answer the question at the very heart of the competition: How far would you be willing to go for fame?
PLEASE NOTE:
Influencer Island is a dark, fast-paced psychological thriller. The format is unconventional — Similar to a podcast transcript, and comparable to titles like World War Z, Sadie, or Daisy Jones & The Six. Due to the graphic nature of the novel, 18+ are recommended.
I really enjoyed the format of this story.  I like novels that are written as an oral transcript because it gives a different vibe to a regular novel and it feels faster pace than a regular novel.  It also makes it feel more real in a way because you feel like you're listening to a podcast.  This did that format quite well.  It was easy to imagine it as a podcast, especially with how it was structured.  It would hint towards certain information and then transition to a different part of the story.  It kept your interest and felt dramatic.
I enjoyed the story in general.  It was a little fantastical, but it was still gripping like you couldn't look away from it.  I wanted to know what was going to happen next, and I kept trying to guess but never really got it right.  That's what made it so engaging, because it really did keep me guessing.  There. were a couple of moments where I got confused about details and felt that the book was contradicting itself, however, I was able to move past that because I might have just misread something.
I liked the characters.  They had interesting personalities, and complex backstories.  The main podcast host was. clearly determined and ambitious when it came to his mission.  The woman going to the island was interesting as well.  I was curious about what happened to her brother and how her brother was connected to all the other people going to the island.
It was fast paced and an intriguing premise.  If you're at all interested in the premise, I suggest that you check out this book.