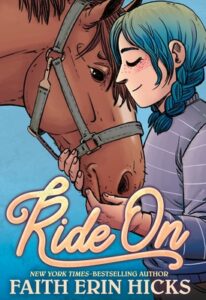 **Disclaimer: I received a free early access copy of Ride On by Faith Erin Hicks through NetGalley in exchange for an honest review.  Thank you to NetGalley and the publishers for this opportunity.
Ride On by Faith Erin Hicks is a middle grade graphic novel about a young girl who likes to ride horses.  She switches the stable she is riding at, and encounters a new group of horse kids.  It is set to be published on August 16th, 2022.  I rated it 4 stars on Goodreads.
Here's the summary from Goodreads:
In Ride On, this middle grade graphic novel from Faith Erin Hicks, twelve-year-old Victoria is burned out from the high-pressure world or riding competitions. Can she get back to basics and rekindle her love of horses? Perfect for fans of Best Friends and Stargazing!
VIctoria has always loved horses. But riding in competitions is high stakes, high stress, and shockingly expensive. And even though Victoria's best friend Taylor loves competing, Victoria has lost her taste for it.
After a heartbreaking fight with Taylor, Victoria needs a new start—at a new stables. A place where she doesn't have to worry about anything other than riding. No competition, no drama, no friends.
Just horses.
Edgewood Stables seems ideal. There are plenty of horses to ride, and Victoria is perfectly happy giving the other riders the cold shoulder.
But can she truly be happy with no friends?
This was the first time I ever got one of my NetGalley wishes granted, and I had to say I was pretty excited about it.  It was definitely a worthwhile rade.
I really enjoyed the art style.  The characters were well designed and it was really easy to figure out which character was which.  The colours were lovely, and I felt that there was a great attention to detail.  She clearly put a lot of thought into her character design, which I really appreciated.  I loved the vivid colours.  I really felt like I was there with the characters as they moved through the story.
The storyline was really sweet.  I felt for Victoria as she tried to make new friends after what she dealt with at her old stable.  It's hard when you're young to sometimes traverse complicated situations.  How do you deal with conflict with your friends? How do you keep yourself from getting hurt again?  I thought the story dealt really well with those particular topics.  Victoria really grows as a character as she really opens herself up to being friends with some new people.
The storyline was really well done, and overall, it was a really great story.  I highly recommend that you check it out when it comes out in August.