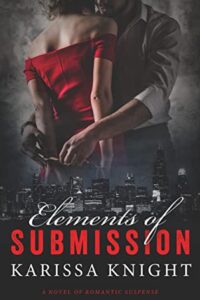 **Disclaimer: I received a free advanced readers copy of Elements of Submission by Karissa Knight through NetGalley in exchange for an honest review.  Thank you to NetGalley and the publisher for this opportunity.
Elements of Submission by Karissa Knight is a dark romance with mystery elements.  It follows an infamous criminal defense lawyer named Mina as she takes on a new client and gets sucked up into a greater mystery, while also being incredibly drawn to her new client.  It was published on June 21st, 2022.  I rated it 2 stars on Goodreads.
Here's the summary from Goodreads:
When a powerful young billionaire hires Chicago's hottest legal star, she must decide whether he's a killer or the man to unlock her most private fantasies.
Wilhelmina Green is the lawyer of choice for sexual predators and murderers. Her latest victory, the acquittal of a U.S. senator, has made Mina a media sensation. Escaping the attention, she secretly takes her next tombstoning dive into Australian waters. The risk of a solo jump at dawn serves as her punishment and atonement for releasing guilty men into the world.
CEO Jonathon Thomas Heun, suspected of a brutal murder, hires Mina to represent him. His seductive world of wealth and power soon draws her in as they work to uncover evidence of Jonathon's innocence. Mina senses he's keeping part of himself closed off from the world. And from her.
Dark fantasies of fear, pain and passion haunt Mina's dreams and leave her breathless. No man has ever seemed capable of having her—possessing her—in this way. Until Jonathon.
Is he a killer? Or the one she's been waiting for?
Elements of Submission is the first book in the Elements of Power series and follows Mina's dark journey into sexual submission, as Jonathon's past catches up with him.
Sometimes a girl just needs to read a smutty book, and this was one of those times.  I don't read a lot of these types of books so I'm not sure I am the best judge of them, so I'm going to respond to it in general and give some general opinions like I would give any other book.
I liked the overall premise of this book.  The idea of a defense lawyer being so conflicted about her job made a lot of sense to me considering who it was that she was defending.  Her clients were awful horrible people and she was getting them off, so I really appreciated the inner conflict that Mina had about that.  She was a compelling narrator and I enjoyed her back and froth and her character growth.  She was on the whole quite interesting to me.
I also appreciated the chemistry between Mina and Jonathon.  They had an interesting dynamic even though it was definitely kind of unethical since he was her client.  But I enjoyed how she felt drawn to him almost from their first meeting.  He was an interesting enough character but I would have liked for him to be a bit more developed.
I liked the mystery aspects of the story as well as they were trying to figure out what was going on.  It kept me guessing.
A big glaring thing that stood out to me as I read through the story was there were details that felt like they contradicted themselves to me.  There were moments when something would be said, then later they would contradict it by saying Mina didn't already know when I was pretty sure they had just gone over that.  I found that really annoying as I read through because it seemed like it a bit more was needed to be put into the editing process or something.
Overall, even though I gave it a low rating, I would still recommend this book.  I had a decent time reading it, and I think most readers of this type of book would have been able to find enjoyment in it.  So I would definitely suggest checking it out if you're intrigued by the plot.