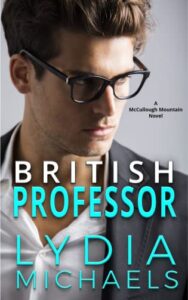 **Disclaimer: I received a free advanced readers copy of British Professor by Lydia Michaels through NetGalley in exchange for an honest review. Thank you to NetGalley and the publisher for this opportunity.
British Professor by Lydia Michaels is an adult romance novel.  It is about the youngest daughter of a large family learning about herself and coming into her identity as a woman, while also falling in love with a professor at her school.  It was published on May 17th, 2022.  I rated it 4 stars on Goodreads.
Here's the summary from Goodreads:
Sheilagh McCullough has been pretending to be someone else her entire life. When she takes her rebellious act too far, her overbearing brothers decide it's time for her to grow up and face her future. After six years of procrastination and parties, Sheilagh is finally going to college.
Dr. Alec Devereux is an ethical man, but when Sheilagh McCullough enrolls in his class, his morals as a professor are put to the test. Brilliant, tenacious, and a contradiction to herself in so many ways, Alec is enchanted by his new student and unable to resist temptation. Persistent and logical, Alec unravels the mysterious woman who has captured his heart only to discover the greatest threat to their future might be her past.
A courageous journey of the soul that confronts one woman's fears of love and embraces the truth in her heart.
This was a fun read.  Again, it's not my usual genre but I still found that I had a lot of fun reading it, and I ended up feeling a lot better about it than I expected considering it was a professor-student relationship as the premise.What I appreciated about that premise was that they were both adults.  There's a large age gap, but she is 24 and not a teenager.  I also appreciated that she dropped his class and their romance blossomed after she wasn't his student any more.
I liked Sheilagh as a character.  She was really interesting to read about as she tried to figure out how to be who she was, and struggled with getting over her longtime crush.  I found the depiction of her mental health interesting to read about as it was an aspect of depression that I had never really known about before.  I appreciated that it positively depicted therapy as well.  It was great that she was actually talking to someone.
I also really enjoyed the family aspects.  Many of her brothers were jerks, but I really enjoy a big family dynamic and that was a big part of this novel.  They were vaguely dysfunctional but they seemed to love each other.  I liked how they were protective of her, but also how they ribbed each other and pulled pranks.  I think I'll be continuing with this series just to read more about the family.
The romance was interesting.  I liked the push and pull between the two of them and how they felt intellectually suited for each other.  They each pushed the other and wanted them to be the best they could be.  The conflict felt realistic and I liked that they did try to talk out some of their problems.  They had a really good chemistry.
Overall, I had a lot of fun reading this story, and if you like the sound of it then I highly suggest that you check it out.