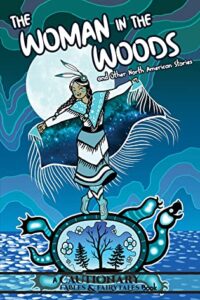 **Disclaimer: I received a free advanced readers copy of The Woman in the Woods and Other North American Stories through NetGalley in exchange for an honest review.  Thank you to NetGalley and the publishers for this opportunity.
The Woman in the Woods and Other North American Stories is a graphic novel collection of short stories of First Nations myths and stories.  It was published on April 5th, 2022.  I rated it 4 stars on Goodreads.
Here's the summary from Goodreads:
Loup Garrou, trickster rabbits, and spirits with names that can't be spoken — the plains and forests of North America are alive with characters like these, all waiting to meet you in this collection of folklore retold in comics!
This fifth volume of the "Cautionary Fables and Fairytales" anthology series features updated takes on ancient stories from tribes spanning the continent, bursting with bedside tales that are thrilling, chilling, and most of all inspiring. Featuring the work of JORDAAN ARLEDGE, MAIJA AMBROSE PLAMONDON, MILO APPLEJOHN, and more!
I had a lot of fun reading this collection.  I really enjoyed learning about different stories from different First Nations groups.  I also liked that all of the stories were written and illustrated by Indigenous people.  That was important to me when I started to read this collection.
Each of the stories had a compelling aspect to it.  I liked that they each had different art stles and a title page to separate them.  It was very interesting to see how the stories each played out.  They were all very well done and unique.
I liked that each story had a unique approach to how the story was told.  Some were more narrated, while others made you more a part of the action through lots of dialogue.  I felt like i learned a lot about different groups, and it all felt very educational.
Overall, I highly recommend that you check out this collection!