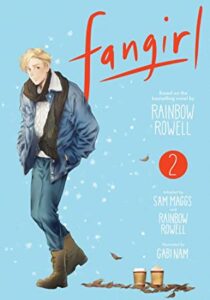 **Disclaimer: I received a free advanced readers copy of Fangirl, Volume 2 by Sam Maggs through NetGalley in exchange for an honest review. Thank you to NetGalley and the publishers for this opportunity.
Fangirl, Volume 2 by Sam Maggs is a young adult graphic novel adaptation of the young adult novel of the same name by Rainbow Rowell.  It is the story of Cath who goes to university with her twin sister and her coming into herself.  The graphic novel published on June 14th, 2022.  I rated it 4 stars on Goodreads.
Here's the summary from Goodreads:
Cath just wants to hang out with her twin sister and write fanfiction. But now that they're at college, her sister doesn't have time for her. And life keeps pulling Cath further and further out of her shell. For the first time ever, Cath has her own social circle. There's Nick, her handsome classmate who wants her to write short stories with him… And then Levi, who keeps showing up when she isn't looking for him … Actually … maybe Cath's circle is more of a triangle?
I enjoyed the first and second volume of this manga/graphic novel adaptation of Fangirl, but that's not surprising since I also quite enjoyed the novel.  I like reading about fandom culture and so it was really interesting to read about an introvert who likes to write fanfiction (even though I'm not super into fanfiction myself).  It's a novel that is well suited to graphic adaptation.
The second volume continued to have great art.  I liked the design of the characters, and how unique they each felt.  I also liked the design of the excerpts from the Simon Snow books and fanfiction that the characters had written.  It's neat to get a visual snippet of those worlds.  It was really well illustrated.
The story continued to be good, and I really liked watching how Levi and Cath grew closer over the length of the graphic novel.  It was well adapted in the moments that were put onto the page and how the narration was pared down.  I really enjoyed the burgeoning romance and how it left me on a cliffhanger waiting for the next one.
If you liked the novel, you should definitely check out the adaptation.