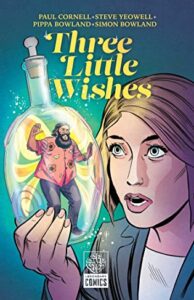 **Disclaimer: I received a free advanced readers copy of Three Little Wishes by Paul Cornell through NetGalley in exchange for an honest review.  Thank you to NetGalley and the publishers for this opportunity.
Three Little Wishes by Paul Cornell is an adult graphic novel about a woman who accidetnally finds a fairy who offers to grant her three wishes, but rather than just choosing simple, selfish wishes, she decides to change the world.  It was published on July 12, 2022.  I rated it 4 wtars on Goodreads.
Here's the summary from Goodreads:
Kelly Castleton is the most detail-oriented, by-the-book contract lawyer you could ever wish to have on your side – unless of course you happen to be an immortal fairy with three malicious wishes to grant!
Of course the day Kelly decides to be spontaneous on ONE LITTLE THING, she stumbles upon an ancient magic with the power to change everything!  What to do – world peace? Win back her oh-so-perfect ex? Well, if underthinking got her into this mess, her habitual overthinking should be able to get her out of it!
When the fairy king Oberon is released from his enchanted imprisonment, he offers Kelly the simplest of gifts: THREE LITTLE WISHES.  That's all, no need to think too hard about it.  Just wish for what you've always wanted and he'll give you exactly that.  Exactly, to the T… what could possibly go wrong?
This graphic novel was so, so fun.
Let's start with the art style.  I really enjoyed how the characters were designed.  They felt really realistic and each had a really unique design.  The panels were always well designed and I liked how certain moments were passed along.  I laughed a little after her first wish was granted and how it showed the effects of that being played out.  It was very well done.
The storyline was really interesting.  I liked how when Kelly tried to do a spontaneous thing it made her life really take a turn.  I also really liked her as a character.  She was well developed, and it was fun to read about a really detail orientated character.  She was really interesting and compelling.
The wish making was fun.  I liked that she was trying to improve the world and that she put a lot of thought into her wishes.  It was very entertaining to see how the world reacted as well, and I loved the parts where the assassin tried to come after her.  It was quite funny.
Overall, I think it was quite well done, and I highly recommend that you check it out.