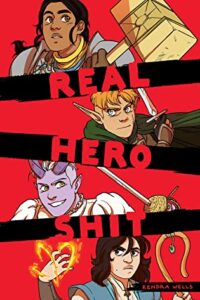 **Disclaimer: I recieved a free eARC of Real Hero Shit by Kendra Wells through NetGalley in exchange for an honest review.  Thank you to NetGalley and the publisher for this opportunity.
Real Hero Shit by Kendra Wells is an adult fantasy graphic novel about an unlikely group of adventurers who set about investigating the disappearance of some villagers.  It was published on February 22, 2022.  I rated it four stars.
Here's the summary from Goodreads:
The layabout Prince Eugene has decided on a whim that he will be a HERO . . . much to the dismay of the adventuring party of Michel, Hocus, and Ani. They are in need of an at least moderately capable fighter and it looks like Eugene, being a prince and all (albeit a bastard one), is going to be it as long as he wants in.
Life on the road is different than Eugene expected, but there's no time to wallow in pouty disappointment; townsfolk are going missing and our heroes have answered the call to adventure. It feels straightforward enough; the perfect opportunity for the prince to save the day and make his companions some coin before moving on to the next distraction. But outside the palace walls, Eugene crashes into a hard reality: the system that kept him safe in his silk-sheeted bed isn't particularly concerned with the well-being of anyone who isn't him.
Eugene will have to level-up his awareness if he means to be a real hero, and time is running short!
This graphic novel was a lot of fun.
Let's start with the art.  The colours in this graphic novel were really bright and vivid.  The characters all had a unique design and feel to them, and I really liked how it was easy to distinguish who was who.  I loved the setting in the background of the panels, and how detailed the panels were.  Overall, the art was super great.
Character wise, I loved all of them.  We're faced with an unlikely group teaming up together, but I really enjoyed the taste we got of each character.  In a shorter graphic novel, you can only really get a snippet, but I really enjoyed what I have read about the characters so far (at least I hope there will be more).   They had a fun dynamic together, and I wanted to have more and more of them.
The storyline was good.  I liked the way the characters teamed up with each other, and how it didn't focus too much on parts that didn't really add to the plot.  It really dug into the main plot, and it had good pacing.  I liked the tension that was built as they were investigating the crime.
Overall, I definitely recommend that you check out this graphic novel.