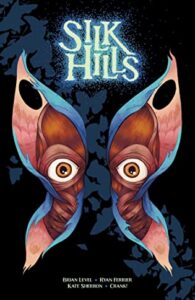 **Disclaimer: I recieved a free eARC of Silk Hills by Ryan Ferrier, Brian Level, and Kate Sherron through NetGalley in exchange for an honest review.  Thank you to NetGalley and the publishers for this opportunity.
Silk Hills by Ryan Ferrier, Brian Level, and Kate Sherron is a horror graphic novel about a private investigator who goes to a small Appalachian town in order to investigate the disappearance of the son of the lumber mill owner.  She soon learns that things are not what they seem.  Silk Hills is set to publish on May 24th, 2022.  I rated it four stars on Goodreads.
Here's the summary from Goodreads:
This atmospheric and stylish mystery set in the Appalachian region is perfect for fans of Twin Peaks, The X-Files, and Sons of the Devil.
When Beth Wills comes to Silk Hills, a small Appalachian town that's seen better days since the mines were abandoned, she expected a bit of culture shock… But not like this! Beth is someone who has a talent for finding people who don't want to be found, and when she's called to Silk Hills by a local titan of industry, she can tell that something's not right. Little does she know…
Silk Hills was once booming, but the only reason people tend to come through town anymore is to buy Mothman merchandise. Before long, Beth finds out just how wrong things can get in the woods, as her search for a missing troubled youth finds her running afoul of the local drug trade, too-friendly creepers, a very sinister deer, and psychoactive moth dust.
I'm not really sure what drew me to request this book and I have to admit there's a tiny part of me that wishes that I had not because it's super disturbing in a lot of ways.  Admittedly, it's definitely a horror graphic novel and I should have known that going into the novel that it would probably be a bit twisted.
Despite kind of wishing that I hadn't read it, I did find that I enjoyed it.  I ended up giving it four stars on Goodreads because the story had me wanting to know what was going to happen next and how the story would all resolve.  I liked the main character, Beth.  I thought that the story did a good. job of developing who she was and her characterization.  It was very well written in that aspect.
I also feel like the world-building was really well done.  The atmosphere was very much there, and it gave off a very eerie feeling.  The art style also really supported this.  It kept you on your toes and not quite settled.  The use of colour was quite minimal and really helped support the environment.  There were some angles that the characters were drawn from that I found a little bit strange, but I imagine there was a reason for why they were drawn that way.
It was a pretty twisted story and had me wanting to look away or hide behind my hands like if I was watching a horror movie.   I wasn't really scared, but I was unsettled.
If you're at all interested in the premise, I highly recommend that you check it out when it comes out in May.