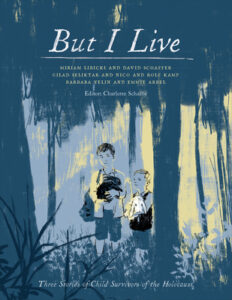 **Disclaimer: I recieved a free teaser eARC of But I Live by Miriam Libicki through NetGalley in exchange for an honest review.  Thanks to the publishers and NetGalley for this opportunity.
But I Live: Three Stories of Child Survivors of the Holocaust by Miriam Libicki is a collection of graphic novellas about children who survived the Holocaust.  The eARC is read was a sneak peak that contained just the first novella.  I rated it four stars on Goodreads.  It is set to be published on May 24th, 2022.
Here's the summary from Goodreads:
An intimate co-creation of three graphic novelists and four Holocaust survivors, But I Live consists of three illustrated stories based on the experiences of each survivor during and after the Holocaust.
David Schaffer and his family survived in Romania due to their refusal to obey Nazi collaborators. In the Netherlands, brothers Nico and Rolf Kamp were separated from their parents and hidden by the Dutch resistance in thirteen different places. Through the story of Emmie Arbel, a child survivor of the Ravensbrück and Bergen-Belsen concentration camps, we see the lifelong trauma inflicted by the Holocaust.
To complement these hauntingly beautiful and unforgettable visual stories, But I Live includes historical essays, an illustrated postscript from the artists, and personal words from each of the survivors.
As we urgently approach the post-witness era without living survivors of the Holocaust, these illustrated stories act as a physical embodiment of memory and help to create a new archive for future readers. By turning these testimonies into graphic novels, But I Live aims to teach new generations about racism, antisemitism, human rights, and social justice.
As mentioned above, I was only able to read a short part of the graphic novella collection, but honestly it was a very well written and designed story.  The art style was really lovely and really suited the emotional tone of the story.  I appreciated the colours and the design of each of the people that were included in the story.
The story itself was really beautiful and I liked how you saw the present of the survivor but also saw their story played out.  It had a lot of emotional resonance.  I found myself wanting more and to hear in even greater detail about this person.
I do wish that I had been able to read the other two novellas in order to get a full image of the collection, but what I read was really interesting, and I think it's a must read.  You should definitely check it out when it publishes in May.