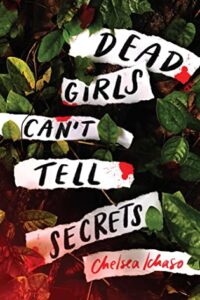 **Disclaimer: I received a free eARC of Dead GIrls Can't Tell Secrets by Chelsea Ichaso through NetGalley in exchange for an honest review.  Thank you to NetGalley and the publishers for this opportunity.
Dead Girls Can't Tell Secrets by Chelsea Ichaso is a young adult mystery novel.  It is about a girl named Savannah who is trying to solve the mystery of what happened to her sister, Piper, who fell off a cliff. People think it's suicide but Savannah doesn't agree.  It was published on April 5th, 2022.  I rated it three stars on Goodreads.
Here's the summary from Goodreads:
Piper's fall was no accident. Did someone want her dead? It's up to her sister to discover the truth in this shocking new thriller with an unreliable narrator, from the acclaimed author of Little Creeping Things.
Piper Sullivan was in a strange hiking accident last month and has been in a coma ever since. Her older sister, Savannah, can't pretend to be optimistic about it; things look bad. Piper will likely never wake up, and Savannah will never get any answers about what exactly happened.
But then Savannah finds a note in Piper's locker, inviting Piper to a meeting of their school's wilderness club…at the very place and on the very day that she fell. Which means there was a chance that Piper wasn't alone. Someone might've seen something. Worse, someone might've done something. But who would want to hurt the perfect Piper Sullivan…and why?
To discover the truth, Savannah joins the club on their weekend-long camping trip on the same mountain where her sister fell. But she better be careful; everyone in the club is a suspect, and everyone seems to be keeping secrets about that tragic day.
And Savannah? She's been keeping secrets, too…
Dead Girls Can't Tell Secrets had an interesting plot, and I think that's why I ended up requesting it from NetGalley.  The title was a good clickbait as well.  I'm definitely glad that I read it, but it wasn't my favourite young adult mystery that I have read.
The story premise was really interesting.  I liked the idea of a sister investigating what happened to her sister out of guilt.  It made things messy and complicated and I like that kind of drama.  The book definitely followed through on that drama.  It was messy, twisted, and complicated, and I enjoyed that aspect.
I felt that it had an interesting pacing.  The bulk of the novel took place over a week and a bit, with a good chunk happening in a single camping trip weekend.  It kept you invested because you just needed to know what was going to happen.   However, I kind of wish that it had been a bit more spread out.
I liked the main character well enough, and the side characters were interesting as well.  The dynamics between the characters were messy and complicated, but I felt like some of those dynamics changed too quickly considering the pacing of the book.
This was a fun read, and I'm glad that I read it.  However, it wasn't my favourite.  That being said, if you are at all interested, you should definitely make sure to pick it up and give it a read.