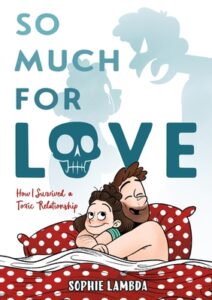 **Disclaimer: I received a free early access copy of So Much For Love by Sophie Lambda through NetGalley in exchange for an honest review.  Thank you to the publishers and NetGalley for this opportunity.
So Much For Love: How I Survived a Toxic Relationship by Sophie Lambda is a graphic novel that is part memoir and part self-help book.  It details just what the title says: how Sophie Lambda got through a toxic relationship from beginning to end and also detailing some of the recovery progress.  I rated it four stars on Goodreads.  It is set to be published on April 12th, 2022.
Here's the summary from Goodreads:
Part memoir, part self-help book, So Much Bad For Love guides readers with honesty and humor through how to spot, cope with, and ultimately survive a romantic relationship with a malignant narcissist.
Sophie had always been cynical about love—until she meets Marcus. His affection and doting praise melt away her defenses. The beginning of their relationship was a whirlwind romance, but over time she finds herself on uneven footing. Marcus lies. He's violently angry and bewilderingly inconsistent. Yet somehow he always manages to explain away his behavior and to convince Sophie that it's all in her head. Sophie comes to realize that she's become trapped in a cycle of abuse with someone with narcissistic personality disorder.
Once she gets out of the relationship, Sophie turns her pen to documenting the experience in this bracing, hilarious, and empathetic graphic novel, full of advice to any readers who may be in similar straits.
This was a really well done graphic novel.  I loved the art style, and how Sophie Lambda illustrated her emotions throughout the story.  You really felt the emotions along with her.  The illustrations were very clear and the text went well with how the story was shown.
It was interesting to read about Sophie's story of her relationship and to also read about the aftermath.  She used some humour, but it is ultimately quite a visceral story.  I also appreciated that she used some scholarly sources to help get across some of the concepts she was trying to express.
She offered some good advice and some good information.
Overall, it was a really well done graphic novel and I highly recommend that you check it out.