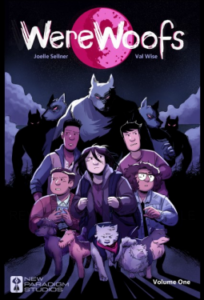 **Disclaimer: I recieved a free eARC of Werewoofs by Joelle Sellner and Val Wise through NetGalley in exchange for an honest review.  Thank you to NetGalley and the publisher for this opportunity.
Werewoofs by Joelle Sellner and Val Wise is a young adult fantasy graphic novel about a group of teens who are bitten by dogs and are turned into 'werewoofs'.  It's got a mystery element, and a dynamic friendship.  It was published on December 1st, 2021.  I rated it four stars on Goodreads.
Here's the summary from Goodreads:
In the small Midwestern town of Howlett, navigating high school is tough enough. But when a group of friends are inexplicably turned into weredogs, adapting to their new powers proves to be even tougher. This leads to an unlikely friendship with loner Mara, a werewolf whose father has mysteriously vanished. As the high schoolers team up to solve the disappearance, friendships are tested, and secrets are revealed as the Werewoofs prove themselves in an explosive showdown against a dangerous wolfpack and their vicious alpha.
This graphic novel was honestly so fun.  I had a great time reading it, and without even giving you any detail, I really want to recommend it to you.
I really loved all of the characters in this story.   Well, specifically the main characters.  The main group of friends had a really interesting dynamic, and I felt that they were really well written.  They each felt like unique characters and stood out in their own way.  They felt realistic and dynamic.
The art was also really great.  I felt that it really suited the storyline and I found myself really enjoying the style.  The colours were really appropriate for the storyline.  The character design was great.  It was a really well designed.
The story line was well developed.  I liked the plot of the story and how the details slowly unfolded as we learned more about Mara's story and what happened to her father, and what happened to her friends.  It was a compelling mystery that kept you guessing.  The story was well paced.