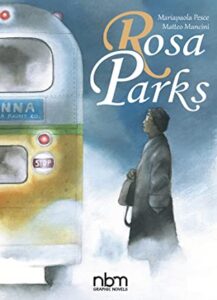 **Disclaimer: I recieved a free eARC of Rosa Parks by Matteo Mancini and Mariapaola Pesce through NetGalley in exchange for an honest review.  Thank you to NetGalley and the publishers for this opportunity.
Rosa Parks by Matteo Mancini and Mariapaola Pesce is a historical graphic novel about Rosa Parks and her refusal to leave her seat on the bus, and the events leading up to that moment.  It was published on February 1st, 2022.  I rated it four stars on Goodreads.
Here's the summary from Goodreads:
Montgomery, Alabama, December 1, 1955: at the end of the working day, 42-year-old Rosa Parks, a black leather dressmaker, takes bus 2857, heading home. She sits in a center row, but when a white passenger gets on after a few stops, the driver asks her to get up to give him her seat, as required by the rules. Rosa knows them well: the blacks sit in the back, the whites in front, while the center seats are mixed and can only be used if all the others are occupied, but the whites retain priority. "No," Rosa replies without thinking too much, she doesn't intend to get up. That simple refusal turns her into a heroine of black rights, engaged in the fight against segregation that oppresses Alabama and other southern states, becoming the propellant of the historic bus boycott in Montgomery led by Martin Luther King. This is her story shown in a context of why it is still so resonant today.
As a Canadian, I don't necessarily know a lot about American history but there are always bits that get through and that I have learned about over the years.  The story of Rosa Parks was one that I vaguely knew of and was interested in learning more about.  So when I saw this graphic novel on NetGalley, I thought it would be a good one to request.
I found this graphic novel really informative.  There was a lot of detail included, but it was presented in a really informative way.  You weren't overwhelmed with detail and then lost out on information.   It was really nice in that way.
I really enjoyed the art of the graphic novel.  It had a really lovely design for the characters and the colours were really beautiful.  It's a really beautifully illustrated story.  The characters are clear in who they are, and I'm really impressed with the art in general.
The story was really well structured as well.  They told the story of Rosa Parks in hindsight, through the structure of a cab driver educating his younger passenger about Rosa's story and the history of the civil rights movement.  It waws a really good way of passing along the story.
If you're interested in the story, I highly recommend that you check it out.