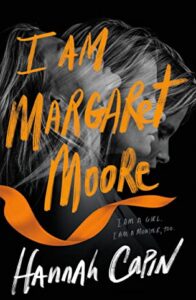 **Disclaimer: I received a free early access copy of I Am Margaret Moore by Hannah Capin through NetGalley in exchange for an honest review.  Thanks to NetGalley and the publishers for this opportunity.
I Am Margaret Moore by Hannah Capin is a young adult paranormal mystery/thriller.  The story is about a teenage girl named Margaret Moore who returns to her yearly summer camp for the last time, but something bad happened the previous year and they have to figure out what exactly happened.  I rated this five stars on Goodreads.  It is set to be published on March 15th, 2022.
Here's the summary from Goodreads:
Lyrical and haunting, Hannah Capin's I Am Margaret Moore is a paranormal thriller that tests the hold of sisterhood and truth.
I am a girl. I am a monster, too.
Each summer the girls of Deck Five come back to Marshall Naval School. They sail on jewel-blue waters; they march on green drill-fields; they earn sunburns and honors. They push until they break apart and heal again, stronger.
Each summer Margaret and Rose and Flor and Nisreen come back to the place where they are girls, safe away from the world: sisters bound by something more than blood.
But this summer everything has changed. Girls are missing and a boy is dead. It's because of Margaret Moore, the boys say. It's because of what happened that night in the storm.
Margaret's friends vanish one by one, swallowed up into the lies she has told about what happened between her and a boy with the world at his feet. Can she unravel the secrets of this summer and last, or will she be pulled under by the place she once called home? 
This book is not going to be for everyone.  Initially, I wasn't even sure if I was going to like this book.  I was excited to request it because I loved Hannah Capin's first two books, and didn't realize she had another one coming out.  However, when I picked it up, I found it kind of slow and hard to get into.  Once I got into it, however, I pretty much couldn't put it down.
The writing of this novel is just as the blurb says: lyrical.  It almost reads like poetry at places and I was really obsessed with how it was written.  It was super impressive to me.  However, I can see where not everyone would enjoy it.  It just really worked for me.  However, I will say that the inclusion of the navy terms was a little confusing because there wasn't really an explanation for most of them and sometimes it was hard to puzzle the definition out from context.
Story wise, I liked the structure of layering in the flashbacks so that the what happened last summer was slowly revealed.  It kept me guessing and needing to read to find out what exactly happened.  I didn't expect the twist/big reveal and I kind of loved that and love the twist itself.  I just really didn't expect it.  I won't spoil it because it's really important to not know the twist going in.
As I mentioned, it is a slower starting book, but this ended up working out for me.  I just found the story very haunting and I think it's one that will stay with me for awhile.  Again, this book won't be for everybody, but I do recommend that you check it out when it publishes in March of next year.