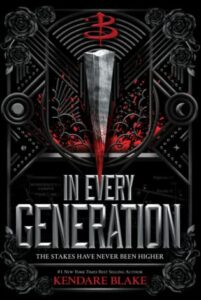 **Disclaimer: I received a free early access copy of In Every Generation by Kendare Blake through NetGalley in exchange for an honest review.  Thank you to NetGalley and the publisher for this opportunity.
In Every Generation by Kendare Blake is a young adult fantasy novel set in the world of Buffy the Vampire Slayer as a several years later sequel featuring the next generation of the Scooby gang.  It features multiple points of view, including the newest slayer and some friends she makes along the way.  It published on January 4th, 2022.  I rated it four stars on Goodreads.
Here's the summary from Goodreads:
A new Slayer for a new generation…
Frankie Rosenberg is passionate about the environment, a sophomore at New Sunnydale High School, and the daughter of the most powerful witch in Sunnydale history. Her mom, Willow, is slowly teaching her magic on the condition that she use it to better the world. But Frankie's happily quiet life is upended when new girl Hailey shows up with news that the annual Slayer convention has been the target of an attack, and all the Slayers—including Buffy, Faith, and Hailey's older sister Vi—might be dead. That means it's time for this generation's Slayer to be born.
But being the first ever Slayer-Witch means learning how to wield a stake while trying to control her budding powers. With the help of Hailey, a werewolf named Jake, and a hot but nerdy sage demon, Frankie must become the Slayer, prevent the Hellmouth from opening again, and find out what happened to her Aunt Buffy, before she's next.
Get ready for a whole new story within the world of Buffy!
The first in an all-new series by New York Times best-selling author Kendare Blake continues the world of Buffy the Vampire Slayer featuring the next generation of Scoobies and Slayers who must defeat a powerful new evil.
I was late to the world of Buffy the Vampire Slayer as you may know if you read my review of Slayer by Kiersten White (which can be found here).  However, I had a lot of fun watching through, and I think of the show and the world it built fondly.  Therefore it was so fun to visit this world again through the writing of Kendare Blake.  I really liked that we got to see some of the fan favourite characters from the television show, while the world also expanded into a new generation as we meet Frankie, Willow's daughter; Jake, Oz's cousin; and Hailey, whose older sister is a Slayer.
I felt the writing of this was really good.  I liked the structure of the story and felt that it really felt like a season of the television show.  There were some good rises and falls, which makes me believe that it would be really good adapted to the screen.  It made me want to keep reading in order to figure out what was going to happen next.  It had some good new elements, while also adding in those pieces of nostalgia.
The characters were really interesting and well developed.  I liked the main group a lot.  They felt really realistic and I was intrigued by their motivations.  I wanted them to succeed and felt for them as they failed.
I also listened to the audiobook of this through NetGalley, and I felt that the narrator did a good job.  It made the story come alive, and really helped me visualize the story as if it was a television show.
Overall, I had a lot of fun reading this story, and if you enjoy Buffy, I highly recommend that you check the novel out.