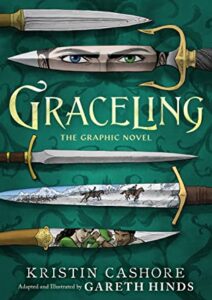 **Disclaimer: I received a free early access copy of Graceling (Graphic Novel) by Kristin Cashore and Gareth Hinds through NetGalley in exchange for an honest review.  Thanks to the publisher and NetGalley for this opportunity.
Graceling (Graphic Novel) by Kristin Cashore and adapted/illustrated by Gareth Hinds is a graphic novel adaptation of the young adult fantasy novel Graceling.  It tells the story of Lady Katsa who is supposedly graced with killing.  Katsa gets caught up into a greater conspiracy and has to go on a daring rescue.  The graphic novel adaptation is set to be published on November 16th.  I rated it four stars on Goodreads.
Here's the summary from Goodreads:
The beloved New York Times best-selling YA fantasy by Kristin Cashore is now available as a graphic novel, with stunning illustrations by award-winning artist Gareth Hinds.
Katsa is a Graceling, one of the rare people born with an extreme skill. As niece of the king, she lived a life of privilege until the day her ability to kill a man with her bare hands revealed itself during a royal banquet. Now she acts as her uncle's enforcer, traveling the kingdom and threatening those who dare oppose him.
But everything changes when she meets Po, a foreign prince Graced with combat skills who is searching for the truth about his grandfather's disappearance. When Katsa agrees to help him, she never expects to learn a new truth about her own Grace—or about a terrible secret that could destroy them all.
With "gorgeous storytelling" (School Library Journal, starred review) and characters "crafted with meticulous devotion" (Kirkus Reviews, starred review), Graceling is a beloved classic that has continued to resonate with readers for over a decade.
I loved the Graceling novel.  It was so interesting and well written.  The world building was fantastic and I just really loved Katsa as a character.  I also really loved the romance that develops between her and Po.  This graphic novel was a great amalgamation of so many of the best elements of the novel.
I loved the art style.  The characters were well designed and just like I expected them to look.  The colours were lovely and it was just a really well done graphic novel. They took the key points of the story and put them into an easier to read version.  You didn't lose the world building and it was just all very beautiful.
As I mentioned, I love the story.  Fantasy is one of my favourite genres, and while this had some of the typical elements of high fantasy, it also had a lot of elements that I didn't expect to come across.  The Graces feel very unique to me.  I like how different they were and the ways that they presented visually.
Overall, if you're interested in the plot of the story, you should definitely check out the original and also the graphic novel adaptation when it comes out in November.