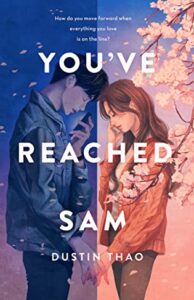 **Disclaimer: I received a free early access copy of You've Reached Sam by Dustin Thau through NetGalley in exchange for an honest review.  Thank you to NetGalley and the publisher for this opportunity.
You've Reached Sam by Dustin Thau is a YA magical realism novel.  It's about a girl named Julie who recently lost her boyfriend Sam in an accident.  One day in a need to hear his voice, she calls his phone hoping for the answering machine.  However, instead, Sam answers the phone.  It is set to be published on November 2nd, 2021.  I rated it 5 stars on Goodreads.
Here's the summary from GoodReads:
If I Stay meets Your Name in this heartfelt novel about love, loss, and what it means to say goodbye.
Seventeen-year-old Julie has her future all planned out—move out of her small town with her boyfriend Sam, attend college in the city, spend a summer in Japan. But then Sam dies. And everything changes.
Heartbroken, Julie skips his funeral, throws out his things, and tries everything to forget him and the tragic way he died. But a message Sam left behind in her yearbook forces back memories. Desperate to hear his voice one more time, Julie calls Sam's cellphone just to listen to his voicemail.
And Sam picks up the phone.
In a miraculous turn of events, Julie's been given a second chance at goodbye. The connection is temporary. But hearing Sam's voice makes her fall for him all over again, and with each call it becomes harder to let him go. However, keeping her otherworldly calls with Sam a secret isn't easy, especially when Julie witnesses the suffering Sam's family is going through. Unable to stand by the sidelines and watch their shared loved ones in pain, Julie is torn between spilling the truth about her calls with Sam and risking their connection and losing him forever.
I first heard about this book on Twitter and was mesmerized by the cover.  I was very excited when I heard it was being put up on NetGalley.  It sounded like a great tearjerker of a book, and it's been awhile since I read one of those.  I was very right.
You've Reached Sam is a brilliant story about grief and how different people experience it.  Not everyone is going to react to the same way to a monumental loss and I really felt that this story exemplified that.  At first Julie wanted nothing to do with any of the things Sam left behind, but when she got rid of them she realized she had been too hasty and had regret.  We don't always think straight when we're dealing with something like that and it was really well illustrated.
I read this story over a couple of days and nearly every time I picked the novel up, I would start crying pretty quickly.  I can be an easy crier but it's been a while since a book got me this regularly.  The characters felt real and relatable, and I felt for them as they tried to cope with what no one should have to cope with.  I appreciated the way that it was handled.
The overall plot of the story was well done too.  The calls between Julie and Sam felt interesting and it was nice to see her have something to hold on to when she didn't feel like she had anything else.
I also really appreciated the way that it depicted high school relationships.  It felt very realistic to what I see in my students as a teacher.  They often thing they're meant to last but they don't always.  Who knows where things would have gone with Julie and Sam if he had lived?  They'll never know now.
Overall, it was beautifully written and developed.  I really appreciated how the story came together, and how it ended.  I cannot recommend this book enough and you should check it out when it publishes in November.