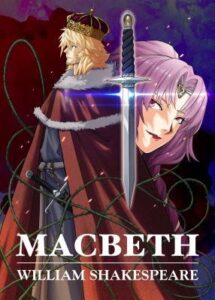 **Disclaimer: I received a free copy of Manga Classics: Macbeth by Stacy King through NetGalley in exchange for an honest review.  Thank you to NetGalley and the publishers for this opportunity.
Manga Classics: Macbeth by Stacy King is a graphic novel adaptation of the classic play Macbeth by William Shakespeare.  It tells the story of the infamous Macbeth who is prophesied to become king and ends up taking things way too far.  It was published on September 1st, 2018.  I rated it 5 stars on Goodreads.
Macbeth is one of my favourite Shakespearean plays.  I love the tragedy of it and the dynamics between Macbeth and Lady Macbeth.  It's just a really gripping story and I love the mythos of it.  It also has a special place in my heart because it was one of the first Shakespearean plays that I taught to students on my practicum.
This was a really excellent adaptation.  I loved how the story was illustrated the events of the play and how well depicted the story was.  It was very clear who the varying characters were, and that really helped as you were reading through the story.  It was really cool to see it done as a graphic novel/manga.
The story was fully there, and I really enjoyed how fast paced it was.   I really wanted to read it in one sitting and ended up staying up late to do so.  The illustrations help the reader understand what's happening/being said, and I can't recommend it enough.
If you're at all interested, I highly suggest that you check it out!