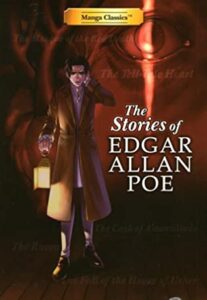 **Disclaimer: I received a free  copy of The Stories of Edgar Allan Poe by Stacy King from Manga Classics through NetGalley in exchange for an honest review.  Thank you to the publishers and NetGalley for this opportunity.
The Stories of Edgar Allan Poe by Stacy King from Manga Classics is a graphic novel adaptation of some of Edgar Allan Poe's most noteworthy stories/poems.  It was published on October 17th, 2017.  I rated it 4 stars on Goodreads.
I had a lot of fun reading the stories of Edgar Allan Poe in a graphic format.  His writing can be kind of dense and this really pared that down while still retaining the charm of his writing.  I felt that each of the stories was well illustrated and that it really suited the story that was being told.  It was clear what was happening at any given point and characters were suitably well illustrated.
I still really love the stories and the way EAP writes.  He's got a very dark style, which I love.  I recognize that it wouldn't be for every one, but it warms my little English teacher heart.
I have an extra special spot in my heart for The Tell-Tale Heart.  It was one of the first short stories that I ever taught to students, and I really love how dark and twisty it is.  It was probably my favourite in the collection as well.  Obviously you have to pare things back in a graphic novel/manga format but it still did a really good job of retaining the general feeling of the story.
It's a fun collection, and if you like EAP but also an easier read because it's a graphic novel, I highly recommend that you check it out.