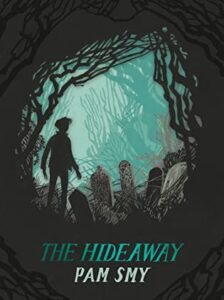 **Disclaimer: I received a free early access copy of The Hideaway by Pam Smy through NetGalley in exchange for an honest review.  Thank you to NetGalley and the publishers for this opportunity.
The Hideaway by Pam Smy is an illustrated contemporary fantasy novel.  It's mostly based in reality with some supernatural elements.  The story is about a young boy who runs away from home because his mother is in an abusive relationship and he can't handle it anymore.  I rated it 5 stars on Goodreads.  It is set to publish on September 2nd, 2021.
Here's the summary from Goodreads:
A haunting illustrated novel from the author of the highly acclaimed Thornhill.
Told in two alternating narratives, The Hideaway tells the story of Billy McKenna, who runs away from home and takes refuge in an overgrown graveyard. The first narrative is told from his perspective, whereas the second thread tells of the situation at home and the police search for Billy. Covering themes of domestic violence, families, childhood, being separated and reunited, this is an important and beautifully illustrated book for middle grade readers right up to adults.
The Hideaway is illustrated throughout with tonal and textured black and white drawings. The atmospheric illustrations seep into the edge of the pages before they give way to a series of double-page spreads as the story reaches its climax.
This was a beautiful novel.  When I requested it, I thought it would be more graphic novel style, but I ended up really enjoying the fact that it was an illustrated novel instead.  The formatting was absolutely gorgeous.  I loved the art style.  It framed the text well and added some lovely visuals to the text itself.  The colours were more muted, but I really felt that they suited the story that was being told.
Story line wise, the novel really hit me in the feels.  I felt for Billy and his mother and I wanted them to reunite in a way that would be positive and good.  I wanted them to be able to get away from his abusive step father so that they could both thrive as people.
The fact that Billy hid in the local graveyard was interesting, and I found it intriguing to introduce the man in the graveyard into the story.  It was nice for Billy to have a positive male role model in his life.
The novel gives you the points of view of different characters so you get a full picture of the story.  You as a reader get to understand Billy's perspective, but you also learn about how his mother learns about the disappearance and how she ended up in the relationship.
I found the story very compelling and very interesting.  I was deeply moved by the story and by the art.  I highly recommend that you check it out.