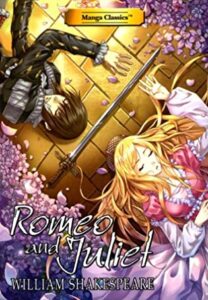 **Disclaimer: I received a free copy of Manga Classics Romeo and Juliet by Stacy King through NetGalley in exchange for an honest review.  Thank you to NetGalley and the publisher for this opportunity.
Manga Classics Romeo and Juliet by Stacy King is a graphic novel adaptation of William Shakespeare's classic play Romeo and Juliet.  It tells the story of two young star crossed lovers from feuding families.  It was published on May 25th, 2018.  I rated it five stars on GoodReads.
Here's the summary from GoodReads:
A classic Shakespearean tragedy, Romeo and Juliet is the tale of two star-crossed young lovers who dare to defy their feuding families, put aside all obstacles, and find happiness together – but at a tremendous cost. This grimly beautiful tale, set in the Renaissance Italy, follows Romeo and Juliet from their hateful first meeting to their last.
Manga Classics ™ brings you this incredible new manga version of William Shakespeare's most popular play, featuring the unaltered original text in its entirety! 
I loved this.  I have a fond place in my heart for Romeo and Juliet and the dramatics of the story, and I felt like a manga was a perfect way to adapt it.  It stuck with the usual setting of the play, but it really emphasized the drama and teenaged angst that the play is so well known for.
I can't say that I have anything special to say about the story.  I love the characters and the angst.  It was fun and heartbreaking, and just everything that Romeo and Juliet always is.  I've raved about it before.
The art style was beautiful, and I really liked how some of the eccentricities of the story were really well emphasized by the way manga can be as an art form (though I will admit to not being super well versed in it).  I liked the different character designs and how well suited each of the characters was to their particular designs.
The manga did use the original language, but having the pictures to go along with it, really helps the reader to understand what is going on at any given point.
Overall, I can't recommend this enough.  If you want a fun adaptation of the classic play, you should totally check this out.